Treasures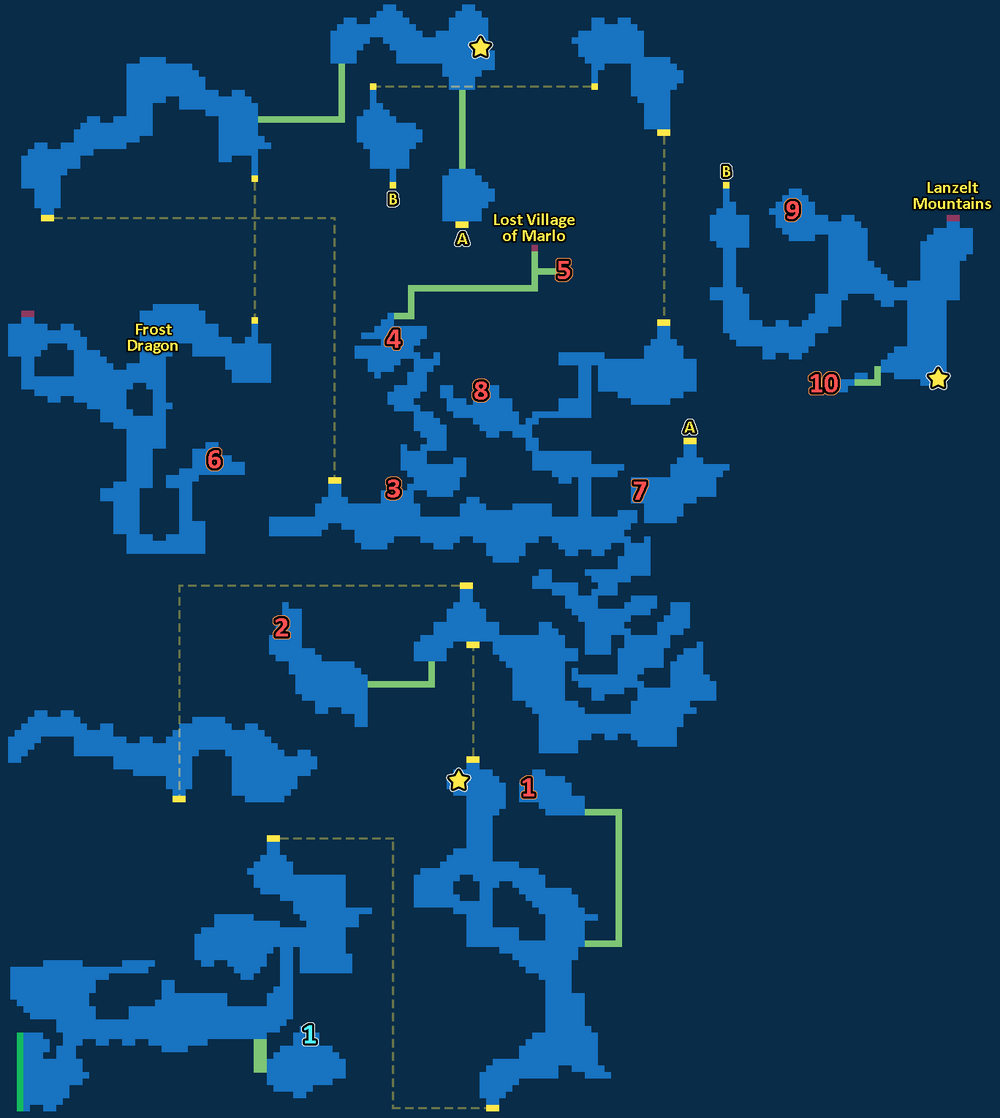 Unlocking Lost Village of Marlo
Lost Village of Marlo is a hidden town. To unlock it simply exit from the north of the map marked as Lost Village of Marlo, and the town will be unlocked. No boss fight required.
Unlocking Lanzelt Mountains
You can unlock Lanzelt Mountains dungeon to obtain an esper, Shiva. Defeat the Frost Dragon to the west, and you will get a notice saying something collapsed in the distance. A tree will be knocked down to the east, giving you passage previously inaccessible. Exit from this eastern part of the map marked as Lanzelt Mountains, and the dungeon will be unlocked.
Involved in Quests
Unit EXP Guide
In order to gain the maximum amount of experience points possible, you must win all monster encounters available until obtaining a certain amount of gil from each of the two zones. You can open the menu to keep track of the amount of gil you obtained from the dungeon. Because the amount of gil you can collect is predetermined, it will indicate your progress in defeating all available monster encounters.
Stay in ZONE 1 until you have 1,977 Gil.
Proceed to and stay in ZONE 2 until you have 3,506 Gil.
Defeat the boss and you should have 3,566 Gil.
You should conclude the dungeon exploration with a total of 3,644 Gil and 31,388 EXP.
| | Battles | Gil | Full Steal | Unit Exp |
| --- | --- | --- | --- | --- |
| Zone 1 | 14 | 1,977 | 3,954 | 16,887 |
| Zone 2 | 12 | 1,529 | 3,058 | 13,001 |
| Subtotal | 26 | 3,506 | 7,012 | 29,888 |
| Boss | 1 | 60 | 120 | 1,500 |
| Dungeon Clear | | 78 | | |
| Total | 27 | 3,644 | 7,210 | 31,388 |
Battle Info