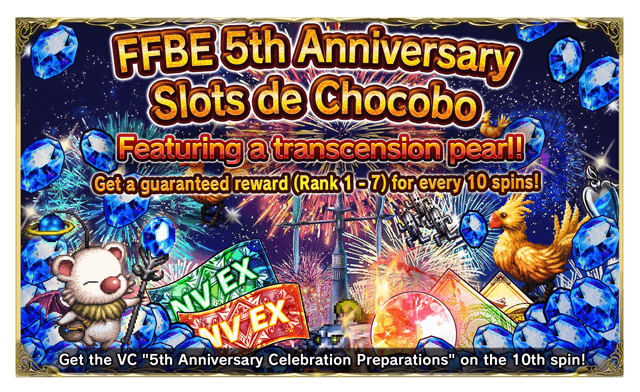 Overview
A minigame that players can play using event slots tokens that dispenses several kinds of rewards. Rewards are claimed from the mailbox. Event tokens can be obtained from an event's login bonus, the event itself, and special daily quests.
To be able to play the slots, players must have at least 1 event token.
How to Play
Once past the "Play Slots" and "Yes" prompts, the player will be presented with a screen reflecting the number of attempts required to get the guaranteed rewards and next bonus reward.
Tap the screen or select the "Spin" button up to 3 times to stop each row of slots. If no actions are made, the game will come to a stop automatically.
If any of the rows have 3 of the same image, the player will be rewarded.
Selecting "Next" will allow the player to choose to "Play Again."
Fever Time will occur randomly, improving your slot spin and reward. It can take the form of Bahamut firing his megaflare, a Fat Chocobo falling from the sky, or a pack of chocobos running across the slots.
Every 10 spins, players will get a guaranteed reward. This means if a player spins the 11th reward, that spin will be get automatically upgraded into a higher placed reward.
Rewards
| Rank | Image | Slot Rewards |
| --- | --- | --- |
| 1 | | Transcension Pearl |
| 2 | | 1/10 NV Summon Ticket |
| 3 | | Guaranteed Ticket |
| 4 | | Rare Summon Ticket |
| 5 | | 300 |
| 6 | | 100 |
| 7 | | NV EX Ticket |
| 8 | | King Metal Minituar (Max level) |
| 9 | | Burst Pot |
| 10 | | NRG Restore 10 (3) |
| 11 | | 20 |
Bonus Rewards
Times Played
Bonus Reward
10
5th Anniversary Celebration Preparations
20
NRG Restore 10 (2)
40

5

Trust Moogle
50
EX Ticket
70

5

Trust Moogle
90
EX Ticket
110
Guaranteed Ticket
120

5

Trust Moogle
130
Super Trust Moogle Exchange Ticket (10)
140

5

Trust Moogle
150

500

160

5

Trust Moogle
170
Super Trust Moogle Exchange Ticket (10)
180

5

Trust Moogle
200
Guaranteed Ticket
220

5

Trust Moogle
240
1/10 NV Summon Ticket (5)
260

5

Trust Moogle
280
EX Ticket
300

500

320

5

Trust Moogle
340
Omniprism
360
Guaranteed Ticket
380

5

Trust Moogle
400
1/10 NV Summon Ticket (5)
420
NRG Restore 10 (20)
440
Super Trust Moogle Exchange Ticket (10)
460
NRG Restore 10 (20)
480
Super Trust Moogle Exchange Ticket (10)
500
Omniprism