Operation MA Demolition
Overview
Origin: Final Fantasy TYPE-0
Type: Exchange Event
Reference: Announcement
Original Event Period: 3/3/17 00:00 - 3/16/17 23:59 PST
Original Claim Period: 3/3/17 00:00 - 3/22/17 23:59 PST

Rerun Event Period: 1/25/19 00:00 - 2/14/19 23:59 PST
Rerun Claim Period: 2/1/19 00:00 - 2/21/19 23:59 PST
King Mog or Mog Minister will exchange various rewards for special currency within the event period. You can obtain this currency by defeating enemies inside the event vortex dungeon. Using the following bonus units will increase the amount of currency received in the vortex dungeon. The bonus is cumulative so you can use as many as you can, including one from a friend companion.
Story
The four lights of hope -- Orience, the land of crystals, and of the saviors "Agito".
Many a day has passed in that distant world, and it is now Gla. XXII, 842 RG. Having been charged with defeating a new weapon developed by the Milites Empire, Class Zero, the young warriors of the Vermillion Bird, head to the facility where this magitek armor is being produced.
As the fighting breaks out, though they originally saw the Militesi Empire as an invading nation, the warriors against whom they fought battled with stalwart conviction. Class Zero, as wise and powerful as they were, saw themselves being called monsters by these imperial warriors who fought for nothing but their country.
How might Rain and his friends think of these differing ways of life. All that is sure is that they must do all they can to protect this moment in history.
Exchange
You can find King Mog or Mog Minister in the Farplane to exchange event currencies with time-limited items.
Battle Info
Operation MA Demolition - BGN
Difficulty
Energy
Battle
Gil
Unit XP
Rank XP
Clear Reward
3
2
40
490
50
Rare Summon Ticket
Mission
Complete the quest

20

Deal lightning damage to an enemy

10

Clear without an ally being KO'd

10

No continues

10

Monster
Boss
Drop
Imperial Soldier
Heavy Gunner

20~22
Operation MA Demolition - INT
Difficulty
Energy
Battle
Gil
Unit XP
Rank XP
Clear Reward
5
3
262
2300
105

200

Mission
Complete the quest

20

No limit bursts

10

Clear without an ally being KO'd

10

No continues

10

Monster
Boss
Drop
Imperial Soldier
Heavy Gunner, Imperial Soldier (2)

38~40
Operation MA Demolition - ADV
Operation MA Demolition - PRO
Operation MA Demolition - ELT
Event Tips
In phase 2 of Adv, Pro, and Elt you can also encounter Golden Bomb which drop

250

.
Nimbus may appear as a rare encounter after the boss in either PRO or ELT dungeons, dropping

2,500

if you kill him.
You can steal 1 White Phantoma from Heavy Gunner, 2 from Colossus, and 2 from Lieutenant Colonel Charlot in PRO.
You can steal 2 White Phantoma from all non-Imperial Soldiers in ELT, including Golden Bomb.
You can steal 350 White Phantoma from Nimbus in PRO and ELT.
You can easily tell if Nimbus will appear or not in the level, based on the number of phases. For example ELT will display X/6 rather than X/5 as you progress.
Boss Guide (ELT)
Brionac
Brionac
Race
Machina

Level
70
HP
530,000
MP
300
ATK
325
DEF
40
MAG
270
SPR
35
Element Resistance
+50%
+50%
-50%
-50%
+50%
+50%
-
-
Status Ailment Resistance
null
-
null
null
+70%
null
null
null
Other Resistance
Immune to Gravity and Death. Break resistances: 0% (ATK), 90% (DEF), 0% (MAG), 100% (SPR), 90% (Stop).
Abilities
Well done pests!: Physical damage and chance to inflict Paralysis to all units
Mercy will be remembered: Lightning damage to a single unit
Ashes to ashes, dust to dust: Lightning damage and decrease DEF/SPR to a single unit
Behold the Brionac!: Damage and may inflict Paralysis to a single unit
Magic interception systems activated - Lightning damage to all units
Strategy
Brionac can inflict paralysis. Having units such as Ling, Refia, Luka, or Tilith is effective at removing paralysis from the party. Equipping a Jeweled Ring, Ribbon, or Discernment is also helpful.
Barthundara, Barthundaga, Thunder Shield or Ramuh can reduce the damage taken from Brionac's Lightning based attacks.
Brionac is susceptible to blind and paralysis. Using Ling's Dance of Death or Noctis's Fire Flask is useful. Also, use Exdeath's LB (bring units with Entrust to help fill the gauge).
Chaining Lightning-elemental weapons, spells, and abilities can inflict serious damage to Brionac.
Nimbus
Nimbus
Race
Human

Level
142
HP
9,999,999
MP
9,999
ATK
9,999
DEF
38
MAG
9,999
SPR
30
Element Resistance
+50%
+50%
+50%
-
-
-
-
-
Status Ailment Resistance
-
+90%
null
null
null
null
-
null
Other Resistance
Immune to Gravity and Death.
Abilities
.... - Does nothing
Always remember this pain... - Instantly KO one unit (twice per turn)
Ruined all the fun... - Escapes from battle. Used on the 3rd turn regardless of action(s) taken.
Strategy
Nimbus can be stolen from once for 350 White Phantoma
If you think you are not able to defeat Nimbus within 3 turns, simply guard until it escapes the battle. Nimbus will attack if it or its guard is damaged in the first two turns. (You can safely steal from Nimbus however.)
Killing the Imperial Guard on the third turn avoids retaliation (since Nimbus will escape regardless). The guard drops 25 White Phantoma in ELT if killed.
Farming Tips
Farming a higher difficulty may not be worthwhile if beating it requires bringing fewer bonus units. In other words, you may get more event currency by farming PRO with an extra +50% unit than ELT without it (ignoring Golden Bombs and Nimbus), as shown in the table below: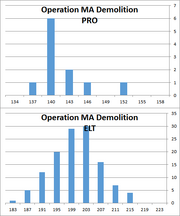 Although the above table is based on the average of the lowest and highest drop quantities, such would only be valid if the non-guaranteed drops had exactly a 50 percent chance of occurring; based on samples collected by CodeHydro (right), such does not appear to be the case.
Normal ELT runs (n = 124) averaged at 200.3 and normal PRO runs (n = 11) averaged at 141.9. Excluded ELT runs (n = 8) had 3 Nimbus and 6 Golden Bombs (one run had both). No rare encounters in PRO samples.
Exdeath with 440 MAG can clear PRO solo with 3x Dual Cast Thundaga, and a Dual Cast Meteor on the boss battle.
Dark Fina with 450+ MAG can clear Pro with 3x Dual Cast Ultima & Osmose, and Dual Cast Ultima x2 on the boss battle.
If you're farming and have idle units, now is a good time to grind trophies. Steal success is almost guaranteed, just target non Imperial Soldier units. You can also potion spam, or have the idle units cast cheap spells or abilities. Check the trophy guide page for other ideas.
Videos
To be able to add an external link, you need to contribute by editing 3 or more times.
Operation MA Demolition - ELT