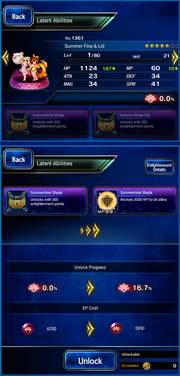 Latent abilities are additional abilities a unit can learn.
To unlock and awaken these abilities, go to "Units" menu from home screen, click on "Awakenable/Latent Abilities" button, then select the "Latent Abilities" tab. This will show all owned units that can learn latent abilities. Enlightenment Points are required to unlock and awaken an ability.
Latent abilities only need to be unlocked once. For example, if you unlock one of Lotus Mage Fina's latent abilities, all current and future copies of Lotus Mage Fina will also have this ability unlocked.
How to obtain Enlightenment Points
Enlightenment Points are currently only obtainable from the Chamber of Enlightenment. Except for the Free Daily, each dungeon has to be unlocked by an Enlightenment Key. The keys are obtainable from special events and promotions, Events, and Series Boss Battles.
Unlock Costs
List of all latent abilities
For detailed info please check their unit page. (Will take time to be fully updated)
FFII
FFV
FFIX
FFX
FFXIII
FFBE