Introduction
This is an exploration event which can be accessed from the Vortex. The exploration is using an extended version of Earth Shrine exploration, with all new chests, collection points, and monsters. You may find Phoenix Down, Star Quartz, and Elixir from chests, as well as recipes for Stonra Blade, Burst Shot, and HP +15%.
These recipes require materials exclusively available from this event, Hard Pebble, and Pure Stone. They are dropped from tough monsters, Golden Bomb for hard pebbles, and Ainsel for pure stones.
Guide
Both Golden Bomb and Ainsel appear in a fixed location. You can start the fight by touching the sparkling spot (see the map below). They may drop 0-2 unique mats when defeated, and the drop rate is pretty high, but if you have maxed Locke it might be a good idea to bring him in. Golden Bomb drops unique material for Stonra Blade and Burst Shot, Hard Pebble, while Ainsel drops unique material for HP +15%, Pure Stone.
Both bosses, plus the dungeon boss, Belmodar, are pretty tough, but can be easily beaten with a party of good 5-star

units. If you have a weaker team, or non-maxed units, you should take extra precaution.
EXP Guide
The dungeon itself gives a very large amount of experience. So if you have a team of fully maxed units, you may substitute one or two for a lower leveled unit. If you are lucky enough, you may also encounter Metal Gigantuar and King Gil Snapper.
In order to gain the maximum amount of experience points possible, you must win all monster encounters available until obtaining a certain amount of gil from each of the two zones. You can open the menu to keep track of the amount of gil you obtained from the dungeon. Because the amount of gil you can earn is more fixed than the monsters and encounters available, the amount of gil will indicate your progress in defeating all available monster encounters. [1]
Defeat all monsters, including the Golden Bomb, in Zone 1, which consists of the first two screens. Once you obtain 4,048 gil from Zone 1, you may proceed to defeat all monsters, including Ainsel, in Zone 2, which consists of the second and final screen. By the end of all possible encounters, you should have earned 8,180 gil, and after winning the boss encounter (Belmodar x3), you conclude the dungeon exploration with a total of 8,610 gil and 75,992 EXP (the total amount can vary slightly, depending if you encountered Metal Gigantuar or King Gil Snapper).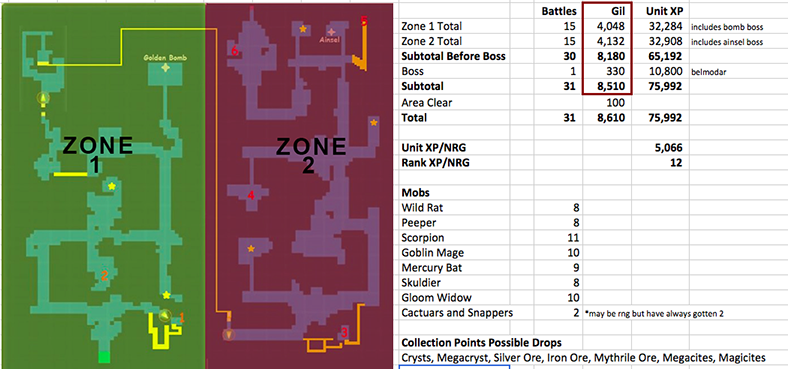 Treasures
Battle Info
| Sprite | Race | Lv | HP | MP |
| --- | --- | --- | --- | --- |
| | Demon | 40 | 20000 | 200 |
Element Resistance
+100%
-50%
-
-
-
-
-
-
Status Ailment Resistance
null
-
-
null
-
null
null
null
| Sprite | Race | Lv | HP | MP |
| --- | --- | --- | --- | --- |
| | Fairy | 68 | 51480 | 270 |
Element Resistance
+100%
+100%
+100%
-
+100%
-50%
-
-
Status Ailment Resistance
null
+50%
+20%
null
null
-
-
null
Event Period
Event Period:
Start: Friday 8/19/16 00:00 PST
End: Thursday 9/1/16 23:59 PST