Map
Involved in Quests
Unit EXP Guide
In order to gain the maximum amount of experience points possible, you must win all monster encounters available until obtaining a certain amount of gil from each of the two zones. You can open the menu to keep track of the amount of gil you obtained from the dungeon. Because the amount of gil you can collect is predetermined, it will indicate your progress in defeating all available monster encounters.
Stay in ZONE 1 until you have 5,511 Gil, or 11,022 Gil with full steal.
Proceed to ZONE 2, defeat all encounters until you have 14,189 Gil, or 27,784 Gil with full steal.
Defeat the boss, you should have 14,709 Gil before leaving the exploration. or 29,005 Gil with full steal.
You should conclude the dungeon exploration with a total of 14,945 gil and 72,699 EXP.
Note: The battle for quest The Abominable Stone Warrior adds 41 gil and 237 EXP.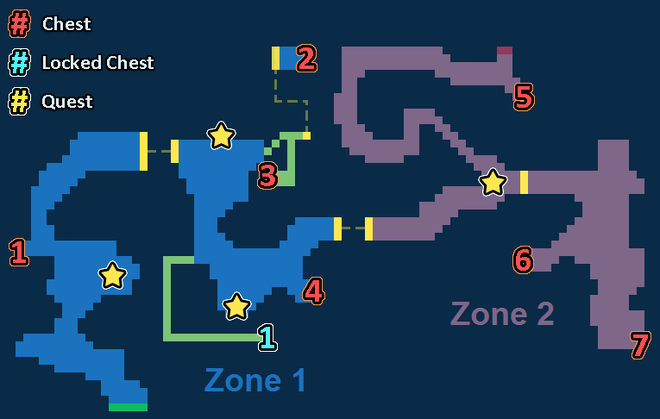 | | Battles | Gil | Unit Exp |
| --- | --- | --- | --- |
| Zone 1 | 13 | 5,511 | 26,231 |
| Zone 2 | 16 | 8,678 | 41,238 |
| Subtotal | 29 | 14,189 | 67,469 |
| Boss | 1 | 520 | 5,200 |
| Dungeon Clear | | 236 | |
| Total | 30 | 14,945 | 72,699 |
Full Steal
Battles
Gil
Unit Exp
Zone 1
13
11,022
26,231
Zone 2
16
17,356
41,238
Subtotal
29
28,378
67,469
Boss
1
1040
5,200
Dungeon Clear
236
Total
30
29,654
72,699
Battle Info