Category:Trust Master Rewards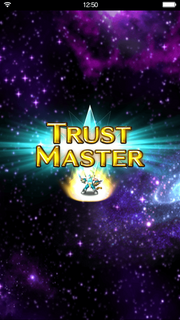 Every summoned unit (i.e. not those from story) come with an additional reward called the Trust Master Reward (TMR or TM). These are awarded when a unit reaches 100% in their Trust Master. TMR is obtained in the form of an equipment or materia, separate from the unit, and can be used by anyone.
To increase a unit's TMR progress:
Clearing a dungeon has a 10% chance to increase trust mastery by 0.1%.
A unit fused with another identical unit will have its trust mastery combined, plus an additional 5%.
Exploring the Moogle Cave (0.3% for base rarity 1~3★; 0.2% for base rarity 4~5★)

5

Trust Moogle adds 10% trust mastery to any unit when fused.

4

Trust Moogle adds 5% trust mastery to any unit when fused.

3

Trust Moogle adds 5% trust mastery to a specific unit when fused.

1

Trust Moogle adds 1% trust mastery to any unit when fused.
You will need an average of 10,000 dungeon clears to obtain 100% trust mastery from 0%. Combining multiple units and using trust moogles will vastly reduce that amount. You won't obtain TMR if you fuse a 100% trust mastery unit to another unit of the same character, to avoid easily repeating the reward (also, it is disabled for equal units).
Trust progress also gives a chance to give bonus items at the end of each dungeon, during the loot description screen. When a bonus item is awarded this way, the message "Trust Bonus" and the face of the character who triggered the bonus will appear. The chance of the bonus item is equal to the current progress of the unit, meaning a unit that already awarded its TMR will always give a bonus item.
Equipment
Name
Type
Description
Unit
Base Rarity
Malboro Wand (FFXIII)
Whip
ATK+41, MAG+125, SPR+108
Effect: A Lady's Kiss, Damage range 105% - 155%, Accuracy+50%
Two-handed weapon
Daughter of Destiny Vanille

5

Dragonhorn (FFXIII)
Spear
ATK+135
Effect: Breath of the Dragon King, Damage range 100% - 150%, Accuracy+50%
Two-handed weapon
Graceful Champion Fang

5

Nightbringer Wolf's Hairpin
Hat
ATK+45
Effect: Imbued with the Nightbringer Wolf's Might
Untamed Wolf Edel

5

Ice Demon's Crown
Hat
ATK+48, DEF+22, MAG+40
Effect: Imbued with the Ice Demon's Might
Mystical Ice Lasswell

5

Tifa's Gloves (FFVII: AC)
Accessory
ATK+45
Effect: The Zangan Way's Ultimate Art
Tifa (FFVII: AC)

5

Velvet Nightmare (FFVII: AC)
Gun
ATK+130
Element: Dark
Effect: Hound's Protection
Yazoo & Loz

4

Lezard's Cloak
Robe
DEF+28, MAG+55, SPR+42
Effect: Disconnected from Humanity (Lezard Valeth only)
Lezard Valeth

5

Infinity Rod
Rod
MAG+140
Effect: Wisdom and Divine Power (Mystina only)
Mystina

5

Aelia's Armor
Heavy Armor
ATK+20, DEF+40
Effect: Dragon's Wake
Aelia

4

Revenant Necklace
Accessory
Resistance: Light (-10%)
Effect: Imbued with the Demon's Might
Dark Spirit Sol

5

Helmet of the Sworn
Helm
ATK+45, DEF+25, MAG+45, SPR+25
Gilgamesh (WOTV FFBE)

5

Delta Star's Headband
Hat
MP+50, DEF+25, MAG+50
Resistance: Lightning (+50%)
Sakura of the Delta Star

5

Epsilon Star's Mask
Hat
DEF+30, SPR+47
Resistance: Ice (+40%), Water (+40%)
Nichol of the Epsilon Star

5

Colundo's Boots
Accessory
DEF+30, SPR+30
Resistance: Silence (Null)
Colundo

4

Caroline's Shoulder Bag
Accessory
DEF+3, SPR+3
Resistance: Wind (+20%)
Effect: Functional Shoulder Bag
Caroline

3

Head Chef's Hat
Accessory
DEF+16, MAG+16, SPR+16
Effect: Chef's Knowledge
Strange Gourmand Quina

5

Edward's Cloak
Clothes
ATK+28, DEF+42, SPR+32
Effect: The Flamel (Edward Elric only)
Edward Elric

5

King Bradley's Eyepatch
Hat
ATK+45
Effect: King Bradley's Eyepatch (Ability), Quick Swordplay
King Bradley

5

Roy's Pyrotex Gloves
Accessory
MAG+52
Effect: Keep Dry (Roy Mustang only)
Roy Mustang

5

Winry's Wrench
Accessory
ATK+18, DEF+20
Winry Rockbell

3

Black Choker (FFX-2)
Accessory
DEF+15, SPR+15
Resistance: Blind (Null), Paralyze (Null), Confuse (Null), Disease (Null)
Effect: Feel the Paine
Paine

5

Faerie Earrings
Accessory
DEF+30, SPR+30
Resistance: Poison (Null), Sleep (Null), Silence (Null), Confuse (Null)
Effect: Faerie's Humble Protection
Rikku (FFX-2)

5

Yunalesca's Circlet
Accessory
MAG+43, SPR+43
Effect: Summoner of Legend's Blessing
Yunalesca

5

Wizard's Petasos
Hat
MP+25, DEF+20, MAG+52
Resistance: Lightning (+20%)
Effect: Paragon Black Mage
Wizardess Shantotto

5

Zeid's Mask
Hat
ATK+40, DEF+12
Resistance: Blind (Null)
Zeid

4

Almaz's Glasses
Accessory
MAG+35
Effect: Energy Conservation
Almaz

4

Treasure Lantern
Accessory
ATK+3, DEF+1, MP +10%, SPR +10%
Resistance: Dark (+10%)
Winkel

3

Onion Boots
Accessory
ATK+40
Effect: Onion Command
Awakened Onion Knight

5

Sweet Earrings
Accessory
HP+300, DEF+45, MAG+30, SPR+45, HP +30%
Resistance: Water (+30%)
Sweet Luka

5

Valentine Tuxedo
Clothes
MP+120, DEF+12, MAG+60, SPR+20
Resistance: Ice (+30%)
Sweet Nichol

5

Elven Bow (FFIV)
Bow
ATK+36, MAG+98, SPR+140, MP +20%
Effect: Damage range 125% - 175%, Accuracy+70%
Two-handed weapon
White Mage Rosa

5

Enchiridion of Warfare
Accessory
ATK+15, DEF+15, MAG+30, SPR+30
Effect: Ancient Warfare
Emperor Foo

5

Jade Bracers
Fist
ATK+30, SPR+125
Effect: Spiritual Affinity
Xuan Wu & Qing Long

5

Saint's Gauntlet
Accessory
DEF+12, SPR+12
Resistance: Light (+20%)
Sister

3

Ardyn's Hat
Hat
ATK+40
Resistance: Dark (+20%)
Effect: Composed Chancellor
Ardyn

5

Sword of Light
Sword
ATK+72, DEF+46, DEF +20%
Effect: Guiding Light (FFI) (Awakened Warrior of Light, Warrior of Light only)
Awakened Warrior of Light

5

Mistletoe Clip
Hat
ATK+40, MAG+40
Resistance: Fire (+15%), Ice (+15%), Wind (+15%), Earth (+15%)
Levinson

5

Pridwen
Heavy Shield
DEF+75, SPR+160
Resistance: Fire (+25%), Lightning (+25%), Dark (+25%)
Lucas

5

Lunafreya's Necklace
Accessory
MP+75, DEF+24, MAG+24, SPR+52, SPR +20%
Resistance: Water (+30%)
Lunafreya

5

Kenny Crow Costume
Clothes
DEF+38, SPR+22
Resistance: Poison (Null)
Effect: Wish for Peace
Kenny Crow

4

Gentiana's Outfit
Robe
DEF+22, MAG+46, SPR+32
Resistance: Ice (+20%)
Gentiana

5

Gudon's Armor
Heavy Armor
ATK+20, DEF+42, HP +20%
Males only
Gudon of the Xi Star

3

Untraceable Phone
Accessory
DEF+30, SPR+30, HP +15%, MP +15%
Effect: Bounty Call
Ability: Libra
Mastermind Xon

5

Aiden's Trench Coat
Robe
DEF+25, SPR+65
Effect: Dark Disguise, Night Camouflage (Doctor Aiden, Aiden only)
Doctor Aiden

5

Dynamo Dagger
Dagger
ATK+140
Element: Earth
Effect: Dynamo Dagger (Ability)
Erik

5

Meteorite Bracer
Accessory
ATK+40, MAG+40
Effect: Meteorite Momentum
Rab

5

Terra's Sword
Sword
ATK+87, MAG+135, MAG +20%
Magitek Warrior Terra

5

Guardian Visor
Accessory
SPR+30
Effect: Equip L Shield
Latyl

3

King Rain's Armor
Heavy Armor
ATK+28, DEF+45
Effect: Aldore King's Majesty
Aldore King Rain

5

Magian Brooch
Accessory
DEF+3, SPR+3, MAG +20%
Effect: Earth Mage's Knowledge
Maisie

3

Archmage's Mantle
Accessory
DEF+12, MAG+50, SPR+10
Resistance: Silence (Null), Confuse (Null), Petrify (Null)
Archmage Kefka

5

Scarlet Moon
Clothes
ATK+35, DEF+30
Effect: Eternal Bloodlust
Karten

5

Photon Core
Accessory
ATK+40
Effect: Photon Core (Ability)
Godrea

5

Galuf's Sword
Sword
ATK+130, DEF+30, HP +20%
Warrior of Dawn Galuf

5

Dark Ring
Accessory
DEF+6, MAG+52
Resistance: Dark (+30%)
Effect: Power of Darkness
Dark Mage Exdeath

5

Red Sword (FFII)
Sword
ATK+135
Effect: Blood Weapon, Damage range 130% - 170%, Accuracy+50%
Two-handed weapon
Wild Rose Firion

5

Defender (FFII)
Sword
ATK+135
Effect: Shielding Blade
Dark Knight Leon

5

Erdwin's Coronet
Helm
ATK+40, DEF+21
Effect: Erdwin's Coronet (Ability)
Eleven

5

Serenica's Surplice
Robe
DEF+34, MAG+29, SPR+67
Resistance: Confuse (Null)
Effect: Serenica's Surplice (Ability)
Serena

5

Mordegon's Cloak
Accessory
DEF+22, MAG+50
Resistance: Dark (+40%)
Mordegon

5

Soul Eater (KH)
Sword
ATK+160
Effect: Eater of Souls
Exclusive: Riku, Riku (KHIII)
Riku

5

Sephiroth's Longcoat (KH)
Clothes
ATK+30, DEF+28, MAG+28, SPR+28
Effect: Heroic Arts, Clad in Darkness (Sephiroth (KH) only)
Sephiroth (KH)

5

Anti-Virus Software
Accessory
DEF+30, SPR+30, DEF +10%, SPR +10%
Resistance: All status ailments (Null)
Effect: Installation Program
A.I. Katy

5

Astral Robe
Robe
DEF+15, MAG+65, SPR+42, MP +10%
Sol

5

Magic Circlet
Helm
DEF+40, MAG+52
Heliarc

4

Hermes Sandals (FFV)
Accessory
ATK+40
Effect: Traveler's Progression
Warrior of Light Bartz

5

Air Tempest
Sword
ATK+125
Element: Wind
Atlie

4

Lotus Bow
Bow
ATK+74, MAG+145
Effect: Damage range 125% - 175%, Accuracy+70%
Two-handed weapon
Kimono Fina

5

Primrose's Necklace
Accessory
DEF+16, SPR+40
Resistance: Petrify (Null)
Effect: Primrose's Necklace (Ability)
Primrose

5

Therion's Scarf
Accessory
ATK+12, DEF+26
Effect: Therion's Scarf (Ability)
Therion

4

Priestess's Attire
Robe
HP+100, MAG+60, SPR+35, MP +10%
Ability: Spirit Fire - Fox Claw
Tsukiko

5

Suiryuken
Katana
ATK+140
Element: Water
Effect: Damage range 105% - 155%, Accuracy+50%
Two-handed weapon
Kaito

5

Survival Knife (FFXIII)
Dagger
ATK+18, MAG+117, SPR+105
Neverending Hope

5

Conductor's Baton
Instrument
MP+200, MAG+20, SPR+90
Effect: Sonorous Hope
Rivera

5

Astraea
Sword
ATK+150, MAG+130
Effect: Damage range 110% - 160%, Accuracy+50%
Two-handed weapon
Exclusive: Elena, Starlight Elena
Elena

5

Buster Sword (FFVII)
Great Sword
ATK+145, HP +10%, MP +10%
Effect: Damage range 100% - 160%, Accuracy+50%
Two-handed weapon
Zack

5

Royal Circlet
Hat
HP+200, MP+50, DEF+25, SPR+50, HP +10%, MP +10%
Sacred Shield Charlotte

5

Mind Protector
Heavy Armor
DEF+40, SPR+101
Effect: Auto-Refresh
Friese

4

Ayaka's Kimono
Robe
DEF+22, SPR+68
Resistance: Light (+30%)
Effect: Sacred Beast's Grace
Kimono Ayaka

5

Flammie Drum
Accessory
ATK+50, HP +20%, MP +20%
Flammie

5

Seraph Comb
Accessory
ATK+50
Effect: Seto's Story
Red XIII

5

Power Amplifier
Hat
ATK+40, DEF+25, SPR+25
Effect: Gunslinger
Regina

5

Fatal Knuckles
Fist
ATK+130
Effect: Damage range 140% - 160%, Accuracy+50%
Two-handed weapon
Amber

4

Nutkin Hairpin
Accessory
MAG+40, MAG +40%
Vesvia

4

Mog Beach Ball
Accessory
MP+50, DEF+3, SPR+3, MP +30%, SPR +30%
Summer Fina & Lid

5

Summer Parasol
Staff
ATK+15, MAG+58, SPR+120, SPR +20%
Effect: Heart of Passion
Summer Folka & Citra

5

Black Fox Shapeshifter Mask
Hat
ATK+40, DEF+10, MAG+40, SPR+12
Nagi

5

Big Chopper
Great Sword
ATK+130, DEF +10%
Effect: Damage range 100% - 160%, Accuracy+50%
Two-handed weapon
Galas

3

Obsidian Helm
Helm
ATK+42, DEF+20
Effect: Mind Ablaze
Zeno of the Beta Star

5

Rush Glove
Accessory
ATK+40
Effect: Master of the Single Blade
Akstar

5

Lagoa
Gun
ATK+130
Effect: Damage range 130% - 170%, Accuracy+70%
Two-handed weapon
Tomoe

4

Mystical Incense Burner
Accessory
DEF+3, SPR+3, HP +20%, MP +20%
Effect: Auto-Refresh
Majora

3

Maria's Goggles
Hat
DEF+30, MAG+52
Resistance: Light (+40%)
Maria (Xenogears)

5

Godfather
Gun
ATK+130, SPR+20
Billy

4

Storm Kickers
Accessory
ATK+51, DEF+10
Effect: Inner Limit, Stormborne (Esther only)
Esther

5

Twin Bunny Clips
Accessory
DEF+35, SPR+35
Resistance: Fire (+5%), Ice (+5%), Lightning (+15%), Water (+5%), Wind (+5%), Earth (+15%), Light (+15%), Dark (+5%)
Effect: Hoppy Memento
Sylvie

5

Precious Bread
Accessory
DEF+1, SPR+1, SPR +40%
Resistance: Water (-30%)
Mirfas

3

Death Adder
Whip
ATK+135
Effect: Machine Killer
Bart

5

Psycho Rod
Rod
ATK+32, MAG+120, MAG +20%
Elly

5

Hard Gauntlet
Accessory
ATK+40, DEF+3, HP +10%
Resistance: Blind (Null)
Franis

4

Assault Shemagh
Hat
ATK+20, SPR+20
Resistance: Silence (+50%)
Ishil

3

Dwarf General's Helmet
Helm
ATK+34, DEF+37
Resistance: Confuse (Null)
Nagflar

4

Flapping Wings
Accessory
ATK+30
Effect: Dreams of Flight
Falma

3

Doga's Rod
Rod
ATK+8, MAG+103
Effect: Doga's Protection
Doga

4

Unei's Staff
Staff
ATK+6, MAG+75, SPR+92
Unei

3

Aegyo
Hat
MAG+20, SPR+55
Effect: Aegyo (Ability)
Myra

5

Suzume's Kimono
Clothes
ATK+21, DEF+36
Effect: Self-Taught Swordsplay
Suzume

4

PNK-2 Booster
Accessory
ATK+35, MAG+35
Effect: Auto-Limit
PNK-2

4

Exquisite Hairpiece
Accessory
DEF+5, MAG+40, HP +20%
Effect: Exquisite Hairpiece (Ability)
Qin

5

Brother's Goggles
Accessory
ATK+20, DEF+20
Resistance: Water (+30%), Blind (Null)
Brother

3

Crescent Rod
Rod
ATK+28, MAG+135
Effect: Connection Symbol (Sophia only)
Sophia

5

Kihana's Necklace
Accessory
SPR+45
Kihana

4

Splash Knuckle
Fist
ATK+125
Element: Water
Ichor

3

Missing Score (FFVII)
Gun
ATK+107, MAG+98, MP +10%
Barret

4

HP Shout (FFVII)
Instrument
ATK+22, MAG+95, SPR+44
Cait Sith

3

Kingdom Key (KH)
Sword
ATK+160
Effect: Key's Begotten Power
Exclusive: Sora, Sora (KHIII)
Sora

5

Cloud's Cloak (KH)
Accessory
ATK+40, DEF+10, SPR+10
Effect: Cloud's Cloak (Ability)
Cloud (KH)

5

Disastrous Formulae
Accessory
MAG+15, SPR+10, MP +20%, MAG +20%
Effect: Auto-Refresh
Tiana

5

Fryevia's Suit
Robe
ATK+30, DEF+1, MAG+30, SPR+1, ATK +10%, MAG +10%
Resistance: Light (+30%)
Aurora Fryevia

5

Star Trail
Whip
ATK+62, MAG+125
Theobald

4

Cannon's Blade
Sword
ATK+105
Element: Fire
Effect: Two Blade Stance
Cannon

3

Onimaru
Katana
ATK+140, SPR+30
Effect: Demon Executioner
Ellesperis

5

Elephim's Harp
Instrument
ATK+12, MAG+23, SPR+125, HP +20%
Effect: Damage range 130% - 170%, Accuracy+70%
Two-handed weapon
Elephim

5

Cuisine Sword
Great Sword
ATK+72, SPR+91
Forelsket

3

Iceblade Hilt
Accessory
MP+50, ATK+40, MAG+40
Resistance: Ice (+50%)
Kurasame

5

Glance Reviver
Sword
ATK+135
Element: Dark
Lenneth

5

Ether Laser
Accessory
MAG+55, MP +20%
Freya (VP)

5

Star Guard
Accessory
ATK+40
Resistance: Light (+30%)
Effect: Star Guard (Ability)
Arngrim

5

Ether Scepter
Rod
ATK+12, MAG+98
Jelanda

3

Midnight Star
Mace
ATK+15, SPR+95
Effect: Demonization
Lilith

5

Lotti's Robe
Robe
DEF+25, MAG+30, SPR+25, HP +10%, MAG +20%
Lotti

3

Ignis's Food Notes
Accessory
DEF+8, SPR+8
Ability: Prime Garula Rib, Meat-and-Beet Bouillon, Memory Lane Pastry
Ignis

5

Wrapping Bandages
Fist
ATK+135, MAG+110, HP +10%, MP +10%
Malphasie

5

Facade of Balance
Accessory
MAG+45, MP +20%, MAG +30%
Effect: Fervor
Circe

5

Colorful Lei
Accessory
ATK+45
Effect: Aloha Spirit, Big Kahuna (Aloha Lasswell, Pyro Glacial Lasswell, Dracu Lasswell, Swordsman Lasswell, Lasswell, Lasswell -Neo Vision- only)
Aloha Lasswell

5

Tropical Delight
Rod
ATK+24, MAG+125, MP +30%
Effect: Auto-Refresh
Seaside Nichol

5

Chic Summer Hat
Hat
DEF+21, MAG+40, SPR+40
Resistance: Fire (+50%)
Summertime Luka

4

Surfer's Sandals
Accessory
MP +10%, ATK +15%, MAG +15%
Tide Rider Skaha

3

Hyoh's Clothes
Clothes
ATK+28, DEF+42
Effect: Blade Master
Hyoh

5

Shield Connector
Heavy Shield
DEF+64, SPR+156
Shatal

4

Domino's Boots
Accessory
DEF+3, SPR+3, HP +20%, DEF +15%
Resistance: Paralyze (Null)
Domino

3

Golden Claws
Fist
ATK+120, HP +15%
Marquis de Léon

5

Sledgehammer (DQ)
Hammer
ATK+103, HP +20%
Effect: Man-Eater
Überkilling Machine

4

Slime Shield
Light Shield
DEF+88, SPR+128
Resistance: Water (+50%)
Slime Knight

4

Laevateinn
Rod
ATK+31, MAG+130
Ability: Vidofnir
Livid Shantotto

5

Dur da Blá
Instrument
ATK+27, SPR+116
Effect: Light Resistance +30%, Damage range 130% - 170%, Accuracy+70%
Two-handed weapon
Joachim

4

Whirlwind
Throwing Weapon
ATK+130
Element: Wind
Effect: Bird Killer
Pecciotta

4

Lightning Saber
Sword
ATK+125
Element: Lightning
Ryuka

3

Lion Heart
Great Sword
ATK+150
Effect: The Legendary Beast (Squall, Lone Lion Squall only), Damage range 100% - 160%, Accuracy+50%
Two-handed weapon
Squall

5

Shooting Star
Throwing Weapon
ATK+48, MAG+118, HP +15%
Rinoa

5

Ehrgeiz
Fist
ATK+128
Effect: Auto-Bravery
Zell

4

Bling Necklace
Accessory
DEF+15, SPR+15, HP +20%
Effect: Passionate
Ramira

3

Knuckles of Hope
Fist
ATK+20, SPR+110, MP +30%
Effect: Auto-Refresh
Rena

5

Farwell
Sword
ATK+135
Element: Light
Fayt

5

Millie's Charm
Accessory
DEF+8, SPR+8, HP +10%, MP +10%
Resistance: Fire (+10%), Water (+10%), Wind (+10%), Earth (+10%), Light (+10%), Dark (+10%)
Effect: Millie's Feelings (Roddick only)
Roddick

3

Nymph Harp
Instrument
MAG+26, SPR+102, HP +20%
Effect: Auto-Limit, Damage range 130% - 170%, Accuracy+70%
Two-handed weapon
Ryumynui

4

Bombardier's Bicorne
Hat
ATK+36, DEF+31
Resistance: Paralyze (Null)
Zile

4

Brontes
Gun
ATK+120
Element: Lightning
Lucille

3

Genji Glove
Accessory
ATK+40, MAG+40, ATK +40%, MAG +40%
Effect: Dual Wield
Gilgamesh

5

Marshal Glove
Accessory
ATK+40
Effect: True Doublehand, Aurora
Elfreeda

5

Ring of the Lucii
Accessory
MAG+3, SPR+3, ATK +30%, MAG +30%
Effect: Holy (FFXV)
Ability: Alterna, Death (FFXV)
Noctis

5

Pod 153
Accessory
DEF+8, SPR+8
Effect: A170: Scanner
Ability: A120: Repair, A060: P Shield, R020: Mirage
9S

4

Fixed Dice
Throwing Weapon
ATK+1
Effect: Damage range 120% - 650%, Accuracy+10%
Two-handed weapon
Setzer

4

Protec Grappler G3
Accessory
ATK+40
Effect: Heroic Dodge, Insurrection (Rico Rodriguez, Mario Frigo, Annika Svennson, Teo only)
Rico Rodriguez

5

Masamune (FFVII)
Katana
ATK+150
Ability: Doublehand, Octaslash (Sephiroth only)
Sephiroth

5

Sun Breaker
Bow
ATK+145
Effect: Bird Killer, Dragon Killer, Damage range 125% - 175%, Accuracy+70%
Two-handed weapon
Ang

5

Hairpin of Purity
Hat
DEF+10, MAG+24, SPR+51
Resistance: All status ailments (Null)
Lotus Mage Fina

5

Clan Master's Headband
Accessory
DEF+12, ATK +30%, MAG +30%
Effect: Evade, Dual Blade Technique
Jiraiya

5

Rikku's Pouch
Accessory
DEF+3
Ability: Chaos Grenade, Panacea, Eccentrick
Rikku

4

Revolving Saw
Great Sword
ATK+130
Effect: Damage range 100% - 160%, Accuracy+50%
Two-handed weapon
Conrad

3

Machine Gun+
Gun
ATK+120
Effect: Damage range 130% - 170%, Accuracy+60%
Two-handed weapon
Jean

3

Stoss Spear
Spear
ATK+140
Effect: High Jump, Damage range 100% - 160%, Accuracy+50%
Two-handed weapon
Aranea

5

Save the Queen (FFIX)
Great Sword
ATK+135
Resistance: Fire (+30%)
Effect: 100-Knight Slayer
Beatrix

5

Mateus's Malice
Rod
ATK+19, MAG+129, HP +10%
Emperor

5

Excalibur II
Great Sword
ATK+130
Element: Light
Steiner

4

Sparky
Gun
ATK+120
Element: Lightning
Effect: Doublehand
Olive

5

Arcturus
Gun
ATK+135
Balthier

5

Crimson Blood
Spear
ATK+145
Effect: Winged Fury
Reberta

5

Virtuous Contract
Katana
ATK+130, MP +20%
2B

5

Onion Sword
Sword
ATK+135
Ability: Bladeblitz, Onion Cutter (Onion Knight only)
Onion Knight

5

Beastlord
Great Sword
ATK+125, DEF +20%
Ability: Beast Roar
A2

5

Brotherhood
Sword
ATK+135
Element: Water
Tidus

5

Artisan
Spear
ATK+135
Element: Earth
Aileen

5

Dandelga
Great Sword
ATK+130
Element: Fire
Vargas

5

Deathbringer
Great Sword
ATK+120
Element: Dark
Effect: Man-Eater
Dark Knight Cecil

5

Fryevia's Needle
Sword
ATK+92, MAG+112
Element: Ice
Fryevia

5

Flaming Blade Agni
Great Sword
ATK+125
Element: Fire
Effect: Fire Resistance +15%
Elbis

4

Thunder Axe Keraunos
Axe
ATK+120
Element: Lightning
Merald

3

Invigorator
Accessory
MP+35, DEF+10
Effect: Energy Circulator
Heavenly Technician Lid

5

Nirvana
Staff
ATK+19, MAG+68, SPR+116
Effect: Auto-Limit
Yuna

5

Trauminator Sword
Sword
ATK+114
Effect: Machine Killer
Killing Machine

4

Angel Flute
Instrument
ATK+10, MAG+48, SPR+98, HP +10%
Eiko

5

Lucky Ingot
Accessory
HP+888, MP+88
Effect: Lucky Ingot
Chow

5

Death Trap
Sword
ATK+80, MAG+100, MP +10%
Drace

4

Minstrel's Prayer
Hat
DEF+8, MAG+42, SPR+46, MP +20%
Roy

5

Ventus
Spear
ATK+125
Element: Wind
Effect: Auto-Shell
Aura

4

Tonitrus
Great Sword
ATK+120
Element: Lightning
Effect: Auto-Bravery
Guromu

3

Northern Lights
Spear
ATK+120
Element: Ice
Effect: Auto-Protect
Ryunan

3

Zodiac Escutcheon
Heavy Shield
DEF+150, SPR+115
Resistance: Lightning (+50%)
Effect: Decoy Pose
Basch

5

Ziedrich
Heavy Shield
DEF+160, SPR+80, HP +15%
Effect: Ziedrich (Ability)
Gladiolus

5

Luxurious Feather Boa
Accessory
SPR +30%
Effect: Sweet Sorrow
Charming Kitty Ariana

5

Aqua Blade
Sword
ATK+90
Element: Water
Effect: Two Blade Stance
Camille

3

Bowie Knife
Dagger
ATK+82
Effect: Dual Wield
Abel

3

Reaver
Spear
HP+666, MP+66, ATK+33, MAG+130, SPR+36, MAG +30%
Element: Fire, Dark
Effect: Death Awaits (Grim Lord Sakura only), Damage range 100% - 160%, Accuracy+50%
Two-handed weapon
Grim Lord Sakura

5

Jake's Pirate Ring
Accessory
DEF+20, SPR+20
Effect: Pirate's Soul
Pirate Jake

4

Magical Top Hat
Hat
MP+45, MAG+25
Effect: Auto-Refresh, Auto-Limit
Illusionist Nichol

4

Refined Engine Axe
Axe
ATK+130
Element: Fire
Killian

4

Claws of Darkness
Fist
ATK+130, SPR+30
Element: Dark
Lila

5

Hoemaru
Katana
ATK+120
Element: Fire
Kamui

3

Hyomonto
Katana
ATK+110
Element: Ice
Effect: Frozen Law
Erwin

3

Glauca's Greatsword
Great Sword
ATK+125
Element: Dark
Effect: Auto-Regen
Glauca

4

Demon Scythe
Spear
ATK+120
Element: Dark
Elza

5

Soul of Thamasa
Accessory
DEF+12, SPR+12, MP +30%
Ability: Dualcast
Trance Terra

5

Dragoon Helmet
Helm
ATK+40, DEF+28
Resistance: Water (+20%), Wind (+20%)
Atoning Dragoon Kain

5

Prishe's Hairpin
Hat
ATK+45, HP +10%, MP +10%
Prishe

5

Rainbow Robe
Robe
DEF+45, MAG+45, SPR+45
Resistance: Fire (+30%), Ice (+30%), Lightning (+30%), Water (+30%), Wind (+30%), Earth (+30%), Light (+30%)
Marie

5

Dark Fina's Swimsuit
Clothes
DEF+21, MAG+60
Resistance: Water (+50%)
Effect: Auto-Refresh
Females only
Seabreeze Dark Fina

5

Apron Dress
Clothes
DEF+49, SPR+49
Effect: Gunslinger
Amelia

4

Crimson Slayer
Light Armor
DEF+52
Resistance: Fire (+25%)
Effect: Fist of Fire
Yun

5

Onion Knight (FFX)
Rod
ATK+21, MAG+120, MP +20%
Effect: Auto-Faith
Lulu

5

Excalibur
Great Sword
ATK+120
Element: Light
Cecil

3

Moonblade
Sword
ATK+118
Element: Dark
Delita

5

Champion's Belt
Accessory
ATK+30, DEF+30
Effect: Champion's Belt (Ability)
Snow

4

Japa Mala
Accessory
DEF+3, HP +20%, MP +20%, ATK +20%, MAG +20%
Mercenary Ramza

5

Snowbear
Accessory
MAG+50, SPR+30
Effect: Snowbear Guard
Christine

5

Ice Rosetta
Accessory
DEF+50, MAG+50
Resistance: Ice (+25%)
White Knight Noel

5

Strategic Cape
Robe
DEF+40, MAG+52, SPR+38, MP +20%
Resistance: Ice (+50%), Water (+50%)
Maritime Strategist Nichol

5

Metal Slime Shield
Light Shield
DEF+89, SPR+80
Resistance: Poison (Null), Sleep (Null), Paralyze (Null), Confuse (Null), Disease (Null), Petrify (Null)
Liquid Metal Slime

4

Moon Axe
Axe
ATK+125
Effect: Confuse (30%)
Robbin' 'Ood

3

Pioneer's Glove
Accessory
ATK+20, SPR+20
Effect: Mining Technique
Riley

3

Sorcery
Sword
ATK+100, MAG+84
Silvia

4

Viking Axe
Axe
ATK+125
Element: Water
Mercedes

4

Robe of Forgiveness
Robe
DEF+30, SPR+55, HP +10%
Olif

4

Tinkererbow
Bow
ATK+102, SPR+20
Effect: Damage range 95% - 105%
Tinkerer Carrie

4

Elf's Bow
Bow
ATK+51, MAG+135
Effect: Demon's Out, Damage range 125% - 175%, Accuracy+70%
Two-handed weapon
Lunera

5

Shield of the Empire
Heavy Shield
DEF+155, SPR+110
Wilhelm

5

Mystic Sash
Accessory
MAG+45
Wadow

4

Cloak of Flames
Accessory
DEF+18, SPR +30%
Resistance: Fire (+20%), Ice (+20%)
Rubicante

4

Magistral Crest
Accessory
MAG +30%, SPR +30%
Vanille

4

Magic Amplifier
Accessory
MP +20%, MAG +25%, SPR +25%
Grace

4

Infernal Armlet
Accessory
ATK +20%, DEF +20%
Resistance: Fire (+20%), Earth (+20%)
Demon Rain

5

Grand Armor
Heavy Armor
DEF+72, SPR+28, HP +15%
Knight Delita

5

Cat Costume
Clothes
DEF+12, MAG +20%, SPR +20%
Nyalu

4

Brave Suit
Clothes
DEF+51, ATK +15%, MAG +15%
Ramza

5

Draco Spike
Rod
ATK+30, MAG+101
Effect: Dracoslayer
Zyrus

4

Mana Blade
Sword
ATK+140
Randi

5

Save the Queen (FFT)
Great Sword
ATK+112
Effect: Auto-Protect
Agrias

4

Sakurafubuki
Katana
ATK+98
Miyuki

3

Desch's Earrings
Accessory
ATK+45
Desch

4

Celestial Gloves
Accessory
ATK+30, DEF+30, MAG+30, SPR+30
Luneth

5

Bracer
Accessory
ATK+30, HP +15%
Gaffgarion

4

Dark Robe
Robe
DEF+35, MAG+55, SPR+20
Resistance: Dark (+30%)
Victoria

4

Vestment of Mind
Robe
DEF+40, SPR+35
Effect: Mind Charge
Aiden

3

Mystical Skull
Accessory
DEF+3, SPR+3
Effect: Hyper Mentalist
Helena

4

Soluna Ring
Accessory
MP+30
Resistance: Light (+15%), Dark (+15%)
Effect: Auto-Refresh
Cupid Luna

3

Soluna Band
Accessory
HP +20%, DEF +20%
Resistance: Light (+25%), Dark (+25%)
Cupid Artemios

4

Arsha's Talisman
Accessory
HP +20%, DEF +10%, SPR +10%
Elle

3

Fairy's Scrunchie
Accessory
DEF+15, SPR+15, HP +20%
Resistance: Confuse (Null)
Mim

3

Ankh of Goddess
Accessory
DEF+3, HP +15%, SPR +15%
Ability: Blessing of the Lifegiver
Divine Soleil

4

Lunar Parasol
Light Shield
DEF+69, SPR+148
Resistance: Silence (Null), Confuse (Null), Petrify (Null)
Effect: MP +30% (Yan only), Auto-Regen (Yan only)
Yan

4

Ice Headband
Accessory
HP +15%, MP +15%, SPR +10%
Charie

3

Sara's Robe
Robe
DEF+15, MAG+20, SPR+55
Resistance: Wind (+30%)
Sara

3

Leichtpanzer
Light Armor
DEF+38
Effect: Archer's Method
Amy

3

Ashe's Ring
Accessory
DEF+3, MP +30%, MAG +30%
Resistance: Light (+50%)
Ashe

4

Venomous Edge
Dagger
ATK+85
Effect: Poison (30%), Paralyze (30%)
Ling

4

Omnirod
Rod
ATK+20, MAG+91
Arc

3

Master's Hammer
Hammer
ATK+108
Element: Earth
Ruggles

3

Tailor's Scissors
Great Sword
ATK+105
Effect: Damage range 100% - 160%, Accuracy+50%
Ability: Death
Two-handed weapon
Grinfield

4

Kaiser Knuckles
Fist
ATK+101
Element: Wind
Xiao

3

Over the Top
Throwing Weapon
ATK+117
Wakka

3

Rising Sun
Throwing Weapon
ATK+107
Effect: Bird Killer
Locke

3

Romandan Pistol
Gun
ATK+107
Mustadio

3

Vishnu Vest
Clothes
DEF+36, SPR+36, MP +15%
Resistance: Fire (+25%), Ice (+25%), Lightning (+25%), Light (+25%), Dark (+25%)
Edward

3

Minerva Bustier
Clothes
DEF+47, SPR+45
Resistance: Fire (+30%), Ice (+30%), Lightning (+30%), Wind (+30%)
Females only
Celes

3

Rider's Helm
Helm
ATK+28, DEF+60
Resistance: Disease (Null), Petrify (Null)
Fohlen

5

Black Cowl
Hat
ATK+28, DEF+25, SPR+25
Resistance: Sleep (Null)
Hayate

3

Trick Hat
Hat
MAG+35, SPR+35, MP +15%
Timothy

3

Aria's Ribbon
Hat
DEF+15, SPR+45, MP +15%
Resistance: Water (+20%)
Aria

4

Ribbon
Accessory
MAG+5, SPR+5
Resistance: All status ailments (Null)
Kefka

3

Sparkly Pom Pom
Accessory
MP +15%, SPR +20%
Resistance: Sleep (Null), Silence (Null), Confuse (Null)
Cheerleader Fina

4

Hibiscus Hairpin
Hat
DEF+10, MP +15%, MAG +20%
Maiden Sakura

4

Artisan Beret
Hat
DEF+14, MP +5%, SPR +20%
Artisan Lid

4

Training Clothes
Clothes
ATK+20, DEF+32, MP +20%
Males only
Goken

4

Twenty-sided Die
Accessory
Effect: Critical Boost, Physical Evade
Sazh

3

Pocket Watch
Accessory
DEF+3, HP +15%
Effect: Gears of Time
Cowboy Jake

4

Vampire Cloak
Clothes
DEF+20, MAG+30, SPR+30
Effect: Evade
Dracu Lasswell

5

ABS Ring
Accessory
DEF+25, SPR+25
Effect: Absorber
Nameless Gunner Jake

5

Ozetta's Armor
Heavy Armor
DEF+65, SPR+65
Ozetta

4

Craftsman Secret Book
Accessory
DEF+11, SPR+6
Ability: Furnace Flames, Windy Bellows, Soiled Blade
Verun

4

Breath of Rose
Dagger
ATK+72, MAG+48
Element: Dark
Effect: Floral Blessing
Ashteroze

4

Magi Staff
Staff
ATK+25, MAG+12, SPR+70
Lenna

3

Kingsglaive Uniform
Clothes
ATK+10, DEF+30, MAG+20, HP +10%
Libertus

3

Portal Charm
Accessory
DEF+3, MAG +15%
Resistance: Fire (+30%), Light (+30%), Dark (+30%)
Kupipi

3

Judge Helm
Helm
DEF+35, SPR+20
Resistance: Fire (+15%), Ice (+15%), Lightning (+15%), Water (+15%), Wind (+15%), Earth (+15%), Light (+15%)
Zargabaath

5

Patches
Accessory
ATK+15, DEF+15, MAG+15, SPR+15
Effect: Bear Charm
Xon

4

Gungnir
Spear
ATK+90
Kain

3

Aegis Shield
Heavy Shield
DEF+133, SPR+65
Resistance: Petrify (Null)
Leo

3

Fina's Swimsuit
Clothes
DEF+18, SPR+50
Resistance: Water (+30%)
Effect: Auto-Regen
Females only
Beach Time Fina

4

Chain Robe
Robe
DEF+55, SPR+30, MP +15%
Meliadoul

4

Lordly Robe
Robe
DEF+45, MAG+35, SPR+35
Effect: Auto-Protect, Auto-Shell
Alma

3

Moogle Plushie
Light Shield
DEF+60, SPR+95
Effect: Moogle Plushie (Ability)
Iris

3

Ukiyo's Kariginu
Robe
DEF+15, MAG+32, MP +10%
Resistance: Light (+10%), Dark (+10%)
Ukiyo

5

Samurai Princess's Armor
Light Armor
DEF+50, SPR+32
Resistance: Fire (+25%), Lightning (+25%), Dark (+25%)
Kaede

4

Doctor's Garment
Clothes
DEF+32, SPR+38
Effect: Pharmacology
Otogiri

3

Clown Staff
Staff
ATK+18, MAG+36, SPR+36, HP +10%
Kupolkan

4

Monster Breastplate
Light Armor
ATK+12, DEF+46, MAG+12
Lawrence

3

Lid's Swimsuit
Clothes
DEF+15, MAG+30, SPR+30
Resistance: Water (+20%)
Females only
Summer Lid

3

Prodigy's Goggles
Accessory
DEF+15, SPR+15
Effect: High Power
Ability: Analyze
Kelsus

5

Cat Hat
Hat
MP+25, DEF+15, MAG+20, SPR+20
Resistance: Silence (Null)
Black Cat Lid

3

Dreamwaker
Staff
ATK+19, MAG+15, SPR+49, MP +15%
Ovelia

3

Thunder God's Plan
Accessory
ATK+3
Ability: Crush Accessory, Spirit Blade, Ultima Sword
Orlandeau

5

Goddess Bow
Bow
ATK+91, SPR+40
Effect: Bird Killer, Damage range 125% - 175%, Accuracy+70%
Two-handed weapon
Rosa

4

Maximilian
Heavy Armor
DEF+62
Vaan

3

Angel Earrings
Accessory
ATK+2, MP +20%
Resistance: Dark (+50%)
Effect: Auto-Regen
Freya

3

Nue
Throwing Weapon
ATK+51, MAG+82
Hope

4

Blessed Bow
Bow
ATK+80, SPR+40
Effect: Bird Killer, Undead Killer, Damage range 125% - 175%, Accuracy+70%
Two-handed weapon
White Witch Fina

4

Dream Harp
Instrument
ATK+76, MAG+41
Effect: Sleep (40%), Damage range 130% - 170%, Accuracy+70%
Two-handed weapon
Gilbert

3

Aurora Scarf
Accessory
DEF+3
Effect: Two-Hit Combo
Lightning

5

Miracle Shoes
Accessory
Effect: Auto-Protect, Auto-Shell, Auto-Regen
Cerius

3

Growth Egg
Accessory
Effect: EXP x1.5
Medius

3

Hanzo Gauntlet
Accessory
DEF+15, SPR+15
Ability: Mug
Edge

3
Passive Ability
Name
Description
Unit
Base Rarity
Odin Synergy
Increase ATK (30%) when equipped with a dagger
Increase ATK (30%) when equipped with a sword
Increase ATK (30%) when equipped with a great sword
Increase ATK (30%) when equipped with a katana
Increase equipment ATK (25%) when dual wielding
Unstackable
War Hero Raegen
5★
Tetra Sylphid Synergy
Increase MP (20%) and MAG (50%)
Enable dual wielding of one-handed weapons
Unstackable
Four Winds Physalis
5★
Alexander Synergy
Increase DEF/SPR (30%)
Increase HP (20%) when equipped with a heavy shield
Increase light resistance (40%)
Hallowed Aegis Charlotte
5★
Courage to Move On
Increase ATK (60%)
Increase LB damage (30%)
Unstackable
Cloud (FFVII: AC)
5★
Mother-Seeking Heart
Increase LB gauge fill rate (50%)
Increase equipment ATK (25%) when dual wielding
Kadaj
5★
Scion Sorceress
Auto-cast Scion Sorceress every turn
Increase MAG (50%) when equipped with a robe
Unstackable
Y'shtola, the Sorceress
5★
Ifrit Synergy
Increase ATK (50%) when equipped with a great sword
Increase fire resistance (30%)
Increase LB gauge (2) per turn
Unstackable
Infernal Fire Rain
5★
Bahamut Synergy
Increase MAG (40%)
Increase Bahamut's bonus stats (30%)
Auto-cast Bahamut Synergy every turn
Draconian Princess Fina
5★
Asura Synergy
Increase ATK (60%) when equipped with a katana
Increase resistance to confuse (100%)
Increase physical damage against humans (25%)
Unstackable
Supreme Deva Akstar
5★
Thievery
Increase ATK (40%) when equipped with a dagger
Increase ATK (30%) when equipped with a sword
Unstackable
Rakish Thief Zidane
5★
Black Mage's Potential
Increase MAG (50%) when equipped with a rod
Increase fire, ice and lightning resistance (20%) when equipped with a hat
Unstackable
Black Mage Vivi
5★
Master Dragon Knight
Increase HP/MP (20%) and ATK (30%)
Increase LB gauge (2) per turn
Increase jump damage (50%)
Unstackable
Dragon Knight Freya
5★
Burmecia's Strongest Dragon Knight
Increase MP (30%) and ATK (40%) when equipped with a spear
Sir Iron-tail Fratley
4★
Court Jesters
Increase MAG (40%)
Increase resistance to poison (100%)
Court Jesters Zorn & Thorn
4★
Philosopher's Stone Seeker
Increase ATK/DEF (40%)
Auto-cast Philosopher's Stone Seeker every turn
Unstackable
Alphonse Elric
5★
The Hawk's Eye
Increase MP (25%)
Increase ATK (40%) when equipped with a gun
Riza Hawkeye
4★
Rookie Sphere Hunter
Increase ATK (40%)
Increase light and dark resistance (50%)
Yuna (FFX-2)
5★
Ace of Aces
Increase ATK (30%)
Increase water resistance (30%)
Increase equipment ATK (50%) and accuracy (25%) when single wielding any weapon
Increase LB gauge (1) per turn
Unstackable
Star Player Tidus
5★
Bonds with the Aeons
Increase EVO MAG (20%)
Auto-cast Bonds with the Aeons every turn
Unstackable
Isaaru
4★
Ronso Guardian
Increase HP/ATK/MAG (30%)
Increase LB gauge (2) per turn
Kimahri
5★
Dance Master
Increase ATK (40%)
Increase ATK (30%) when equipped with a dagger
Unstackable
Lilisette
5★
Leader of the Soiree
Increase ATK (30%)
Increase ATK (20%) when equipped with a gun
Increase ATK (20%) when equipped with a fist
Unstackable
Madam Edel
5★
Tapestry of Chaos
Increase MAG (25%) when equipped with a rod
Increase MAG (25%) when equipped with a hat
Increase fire, ice and lightning resistance (10%) when equipped with a rod
Increase fire, ice and lightning resistance (10%) when equipped with a hat
Unstackable
Hein
5★
Demon King's Power
Increase HP (15%) and MAG (40%)
Recover MP (3%) per turn
Xande
5★
Flurry of Petals
Increased HP (20%), ATK (40%) and DEF (20%)
Increase LB gauge fill rate (50%)
Unstackable
Sieghard & Ignacio
5★
Loving Spirit
Increase HP (10%) and SPR (30%)
Increase SPR (30%) when equipped with a staff
Unstackable
Sakura & Ayaka
5★
Mark of the Paladin
Increase HP (30%)
Increase SPR (30%) when equipped with a heavy shield
Increase SPR (30%) when equipped with a heavy armor
Unstackable
Paladin Cecil
5★
Prodigies of Mysidia
Increase MP (20%) and MAG (50%)
Increase LB gauge (3) per turn
Unstackable
Palom & Porom
5★
Stubborn Ox
Increase HP/DEF (20%)
Auto-cast Stubborn Ox at the start of a battle
Cid (FFIV)
4★
Blade Art Succession
Increase ATK (50%) when equipped with a katana
Increase equipment ATK (50%) and accuracy (25%) when single wielding any weapon
Unstackable
Hess King Lasswell
5★
Battle Advantage
Increase ATK (30%)
Increase physical damage against humans and beasts (10%)
Scartio
3★
King of Lucis' Character
Increase HP (20%) and ATK (40%)
Auto-cast King of Lucis' Character at the start of battle
Unstackable
Regis
5★
Knight of Chaos
Increase ATK (50%)
Increase LB gauge fill rate (25%)
Unstackable
Immortal Knight Garland
5★
Sorceress of Hess
Increase MAG (50%) when equipped with a robe
Increase fire, earth and dark resistance (20%)
Unstackable
White Lily Dark Fina
5★
Sisters of Winter
Increase ATK (20%)
Increase ATK (30%) when equipped with a dagger
Increase ATK (30%) when equipped with a gun
Increase ice and light resistance (20%)
Unstackable
Holy Night Amelia & Emilia
5★
The Astrals' Protection
Increase ATK/MAG (40%)
Increase LB damage (30%)
Unstackable
Crown Prince Noctis
5★
Twin Gunner
Increase MP (20%)
Increase ATK (30%) when equipped with a gun
Increase equipment ATK (50%) when dual wielding
Unstackable
Physalis
5★
Crossing the Land
Increase ATK (30%)
Increase ATK (40%) when equipped with a spear
Unstackable
Juraga of the Nu Star
4★
Advanced Weaponry
Increase equipment ATK (100%) and accuracy (25%) when single wielding any weapon
Auto-cast Advanced Weaponry every turn
Unstackable
Agent Olive
5★
Top Operative
Increase MP/MAG (30%)
Increase MAG (20%) when equipped with a rod
Increase equipment MAG (50%) when single wielding any weapon
Unstackable
Operative Zyrus
5★
The Strategist
Increase HP (20%) and ATK (30%)
Increase ATK (30%) when equipped with a fist
Unstackable
Jasper Unbound
5★
Chivalry Skills
Increase HP/MP (40%)
Unstackable
Sylvando
5★
Allure Skills
Increase ATK (40%)
Chance to counter physical attacks (20%) with Allure (max 1/turn)
Increase ATK (20%) when equipped with clothes
Unstackable
Jade
5★
First-Rate Treasure Hunter
Increase ATK (60%) when equipeed with a dagger
Increase resistance to charm (100%)
Unstackable
Adventurer Locke
5★
Fortune Teller's Vision
Increase physical evasion (10%)
Increase resistance to paralyze and confuse (100%)
Neisha
4★
Fierce Greatsword User
Increase ATK (50%) when equipped with a great sword
Increase ATK (20%) when equipped with a heavy armor
Unstackable
Diezell
4★
Heartless Assassin
Increase ATK (50%) when equipped with a katana
Increase physical damage against humans (50%)
Unstackable
Assassin Shadow
5★
I Love Chocobos!
Increase HP/MP (20%)
Increase resistance to all status ailments (100%)
Chocobo Fina
5★
Girl Entrusted With Hope
Increase MAG (50%)
Recover MP (5%) per turn
Increase EVO MAG (30%)
Unstackable
Warrior of Light Krile
5★
Channel Anger
Increase MAG (40%)
Increase equipment MAG (50%) when single wielding any weapon
Unstackable
Veronica
5★
Way of the Dragon
Increase ATK (20%)
Increase ATK (40%) when equipped with a fist
Unstackable
Great Dragon
4★
Boundless Love
Increase SPR (30%)
Increase equipment SPR (30%) when single wielding any weapon
Increase potency of healing items (100%)
Unstackable
Lovely Katy
5★
Phantom Force
Increase esper's bonus stats (40%)
Eclipsa
4★
Life of the Laboratory
Increase ATK (40%)
Increase resistance to confuse (100%)
Pertira
3★
Tranquil Healing
Increase SPR (50%)
Increase modifier (1x): Cure, Curada, Cura, Curaga, Curaja, Regen
Unstackable
Warrior of Light Lenna
5★
Awe-Inspiring Origin
Increase HP (10%)
Increase ATK (30%) when equipped with clothes
Tessen
3★
Wandering Warrior
Increase HP (40%) and DEF/SPR (20%)
Increase resistance to paralyze (100%)
Unstackable
Olberic
5★
Dreams of a Wider World
Increase ATK/MAG (20%)
Increase experience (25%)
Tressa
3★
Dual Form
Increase equipment ATK (100%) when dual wielding
Unstackable
Radiant Lightning
5★
Empress's Signet
Increase MAG (20%)
Increase MAG (30%) when equipped with a rod
Increase EVO MAG (20%)
Unstackable
Morgana
5★
Wutai Ninja
Increase ATK (30%)
Increase ATK (20%) when equipped with clothes
Increase LB gauge (1) per turn
Unstackable
Yuffie
5★
Successor's Talent
Increase HP (15%)
Increase water, wind and earth resistance (30%)
Shepard
3★
Elegant Gunner
Increase ATK (60%) when equipped with a gun
Increase resistance to blind, sleep, and paralyze (100%)
Unstackable
Dressy Aileen
5★
Chocobo Adventure!
Increase HP/MP (20%) and ATK/DEF/MAG/SPR (30%)
Unstackable
Chocobo Rain
4★
Heart of a Rabite
Increase HP (10%)
Increase light resistance (15%)
Rabite
3★
Planet Whisperer
Increase SPR (50%)
Increase LB gauge (2) per turn
Unstackable
Aerith
5★
Everlasting Fantasy
Increase MP (20%)
Increase MAG (30%) when equipped with an instrument
Decrease chance of being targeted (50%)
Immortal Flame Katy
5★
Honorable Rod Arts
Increase MAG (30%)
Allow use of rods
Krowa
3★
Master of Machinery
Increase MP (20%) and ATK (40%)
Increase physical damage against machinas (50%)
Unstackable
King Edgar of Figaro
5★
Long Training Pays Off
Increase ATK (60%) when equipped with a fist
Auto-heal (1800 HP, 1x) per turn
Unstackable
Monk Sabin of Kolts
5★
Whip Expert
Increase MP (20%)
Increase ATK (50%) when equipped with a whip
Increase equipment ATK (50%) and accuracy (25%) when single wielding any weapon
Unstackable
Yego
5★
Two For One
Increase ATK (20%)
Increase ATK (30%) when equipped with a bow
Increase SPR (40%) when equipped with an instrument
Unstackable
Zolulu & Delulu
4★
Disparate Swordsman
Increase ATK (50%) when equipped with a katana
Increase ATK (20%) when equipped with clothes
Unstackable
Gravey
4★
Heart Bound by Hatred
Increase MAG (40%)
Increase esper's bonus stats (20%)
Black Mage Golbez
5★
A Hero's Bond
Increase ATK (30%) when equipped with a great sword
Increase ATK (30%) when equipped with clothes
Increase ATK (30%) when equipped with light armor
Unstackable
Crimson
5★
Heart Overcoming Hatred
Increase LB damage (50%)
Increase LB gauge (1.5) per turn
Unstackable
Kyanos
4★
Untrue Saint
Increase MAG (30%) when equipped with a hat
Increase MAG (30%) when equipped with a robe
Unstackable
High Seraph Ultima
5★
Hunter's Trade
Increase HP/MP (20%) and ATK (40%)
Unstackable
Beowulf
5★
Dragon's Tribe
Increase MAG (40%)
Increase fire, ice, and lightning resistance (30%)
Reis
4★
Iron Giant's Armor
Increase DEF/SPR (30%)
Decrease ATK/MAG (20%)
Construct 8
3★
Power of Id
Increase ATK/DEF (20%)
Increase ATK (30%) when equipped with clothes
Recover MP (5%) per turn
Unstackable
Fei
5★
Distant Promise
Increase MAG (40%)
Recover MP (5%) per turn
Emeralda
4★
Battling Champ
Increase HP/ATK/DEF (15%)
Rico
3★
Wisdom of Hess
Increase MP (20%) and SPR (40%)
Auto-buff DEF (20%)
Auto-buff SPR (20%)
Yuraisha
5★
Magic Charger
Increase equipment MAG (100%) and accuracy (25%) when single wielding any weapon
Unstackable
Karlette
5★
Hero's Vow - Wind
Increase equipment ATK (50%) and accuracy (25%) when single wielding any weapon
Increase jump damage (75%)
Increase LB gauge fill rate (50%)
Unstackable
Cid
5★
Artistic
Increase MAG (30%)
Decrease MP used (10%)
Melete
4★
Blacksmith's Daughter
Increase ATK (50%) when equipped with a sword
Increase LB gauge fill rate (50%)
Unstackable
Onion Knight Refia
5★
Dark Knight's Knowledge
Increase ATK (30%)
Increase equipment ATK (50%) and accuracy (25%) when single wielding any weapon
Increase physical damage against demons (50%)
Unstackable
Dark Knight Luneth
5★
Hero's Vow - Fire
Increase ATK (30%) when equipped with an axe
Increase equipment ATK (50%) and accuracy (25%) when single wielding any weapon
Increase LB gauge fill rate (50%)
Unstackable
Ignacio
5★
Brush-Up
Increase ATK (20%)
Increase LB damage (10%)
Wayhem
3★
Saint's Aura
Increase HP/MP (10%) and ATK/SPR (30%)
Increase LB gauge (2) every turn
Auto-cast Saint's Aura every turn
Bai Hu & Zhu Que
5★
Legendary Guardian
Increase resistance against confuse, disease and petrify (100%)
Increase ATK (60%) when equipped with a katana
Unstackable
Auron
5★
Awkward Fatherly Love
Increase HP/MP (20%)
Increase ATK (50%) when equipped with a great sword
Unstackable
Jecht
5★
Cognizant of the Truth
Increase MAG (40%)
Increase EVO MAG (10%)
Belgemine
4★
Hero's Vow - Water
Increase MP/SPR (30%)
Increase LB gauge fill rate (50%)
Recover MP (5%) per turn
Unstackable
Folka
5★
Reaper of the Dust Storm
Increase ATK (40%)
Increase physical damage against plants (50%)
Unstackable
Yubel
4★
Soaring Heart
Increase ATK (30%) when equipped with a fist
Increase ATK (30%) when equipped with a hat
Unstackable
Tifa
5★
Past Regrets
Increase ATK (60%)
Decrease SPR (10%)
Unstackable
Vincent
5★
Animated Essence
Increase ATK/MAG (20%)
Increase HP/MP (20%) when equipped with clothes
Increase ATK/DEF (20%) when equipped with light armor
Increase MAG/SPR (20%) when equipped with a robe
Felix
5★
Instrumental Rhythm
Increase MAG/SPR (30%) when equipped with an instrument
Unstackable
Popstar Katy
5★
Hero's Vow - Earth
Increase HP (30%) and DEF/SPR (20%)
Increase LB fill rate (50%)
Increase earth resistance (30%)
Unstackable
Sieghard
5★
Light's Vengeance
Increase HP (40%) and MAG/SPR (30%)
Unstackable
Beryl
5★
Gust Mane
Increase HP (30%) and DEF (20%)
Increase wind resistance (30%)
Leopold
4★
Magical Potential
Increase MP (10%)
Increase equipment MAG (50%) when single wielding any weapon
Unstackable
Magna
4★
Opposition
Auto-cast Opposition at the start of a battle
Increase ATK (35%) when equipped with a sword
Increase ATK (15%) and HP (10%) when equipped with clothes
Unstackable
Machina
5★
Kindness
Increase MAG (40%)
Increase fire resistance (50%)
Deuce
4★
Heroism
Increase ATK/MAG (20%)
Cater
3★
Feelings for Platina
Increase ATK (40%) and SPR (20%) when equipped with a sword
Lucian
4★
Chaotic Ferocity
Increase ATK (30%) when equipped with a fist
Increase ATK (30%) when equipped with clothes
Unstackable
Lucius
5★
Hero's Vow - Light
Increase SPR (60%)
Increase LB gauge fill rate (50%)
Decrease dark resistance (30%)
Unstackable
Citra
5★
Machine Power
Increase ATK (40%)
Increase resistance to paralyze and petrify (100%)
Macmedi
4★
Keeping Back the Dark
Increase ATK (40%)
Increase dark resistance (50%)
Ravus
4★
Devilish Designs
Increase MP (10%)
Increase dark resistance (15%)
Dracky
3★
Devourer of Shadows
Increase ATK (30%) when equipped with a sword
Increase ATK (30%) when equipped with a helm
Unstackable
Shadow Lord
5★
TF29 Agent
Increase equipment ATK (20%) when dual wielding
Increase ATK (30%) when equipped with a gun
Increase ATK (30%) when equipped with a sword
Increase ATK (30%) when equipped with a throwing weapon
Increase ATK (30%) when equipped with a fist
Unstackable
Adam Jensen
5★
Energy Converter
Increase HP (20%) and DEF (30%)
Auto-heal (1800 HP, 1x) per turn
Recover MP (10%) per turn
Viktor Marchenko
5★
Time Machine's Secrets
Increase HP/ATK (20%)
Increase physical evasion (5%)
Václav Koller
4★
Cerebral Augmentation
Increase HP/MP (15%)
Increase lightning resistance (20%)
Frank Pritchard
3★
Swift Hunter
Increase ATK (25%)
Increase equipment ATK (50%) and accuracy (25%) when single wielding any weapon
Unstackable
Nalu
5★
Whip Mastery
Increase ATK (50%) when equipped with a whip
Unstackable
Shinju
4★
Fortitude and Vigor
Increase ATK (40%)
Auto-buff DEF (20%)
Fidel
4★
Seed of Hope
Increase HP (10%)
Increase resistance to all status ailments (50%)
Reimi
4★
Hero's Vow - Dark
Increase LB gauge fill rate (50%)
Increase ATK (30%) when equipped with a katana
Increase ATK (30%) when equipped with a sword
Increase ATK (30%) when equipped with a dagger
Increase ATK (30%) when equipped with a great sword
Unstackable
Raegen
5★
Protector of Lapis
Increase HP (20%) and SPR (40%)
Increase LB gauge (2) per turn
Unstackable
Awakened Rain
5★
Quintessence
Enable dual wielding of one-handed weapons
Increase MAG (15%) when equipped with a rod
Increase MAG (15%) when equipped with a robe
Mediena
5★
Awesome Swordsman
Enable dual wielding of one-handed weapons
Increase ATK (15%) when equipped with a katana
Increase ATK (15%) when equipped with a sword
Increase ATK (15%) when equipped with a dagger
Increase ATK (15%) when equipped with a great sword
Loren
5★
Buster Style
Increase equipment ATK (100%) and accuracy (25%) when single wielding any weapon
Unstackable
Cloud
5★
Dual Wield
Enable dual wielding of one-handed weapons
Zidane
3★
Tomb Raider
Increase HP (20%)
Increase equipment ATK (50%) and accuracy (25%) when single wielding any weapon
Increase counter chance (25%)
Increase LB gauge (2) per turn
Unstackable
Explorer Aileen
5★
Barbariccia's Spirit
Increase HP (30%)
Increase magic damage against humans, beasts, birds, and stone monsters (50%)
Unstackable
Barbariccia
5★
Unmatched Wizardry
Increase SPR (10%)
Increase equipment MAG (50%) when single wielding a one-handed weapon
Unstackable
Kaliva
4★
Azure Crimson Soul
Increase HP/ATK (30%)
Increase LB gauge fill rate (25%)
Pyro Glacial Lasswell
5★
Thirst for Survival
Increase HP/SPR (30%)
Unstackable
Crowe
4★
Chosen One
Increase fire resistance (20%)
Increase ATK (35%) when equipped with a sword
Increase ATK (15%) and HP (10%) when equipped with light armor
Unstackable
Emperor Shera
5★
Proud Fencer
Increase HP (20%)
Increase ATK (40%) when equipped with a great sword
Unstackable
Werei
4★
Dragoon's Pride
Increase ATK (30%) when equipped with a spear
Increase ATK (30%) when equipped with a helm
Unstackable
Duke
5★
Sworn Six's Pride - Light
Increase MAG (40%) and HP (20%)
Decrease chance of being targeted (50%)
Unstackable
Veritas of the Light
5★
Sworn Six's Pride - Dark
Increase ATK (30%) when equipped with a great sword
Increase ATK (30%) when equipped with heavy armor
Unstackable
Veritas of the Dark
5★
Nature Loving Spellblade
Increase ATK (40%) when equipped with a sword
Increase MAG (40%) when equipped with a robe
Kunshira
5★
Pure-bred Summoner
Increase MAG (40%) and SPR (20%)
Increase EVO MAG (10%)
Pure Summoner Rydia
5★
Frigo and Etcetera
Increase ATK (20%)
Increase physical damage against machinas (50%)
Grant Rebellion (Rico Rodriguez, Mario Frigo, Annika Svennson, Teo only)
Unstackable
Mario Frigo
4★
Modish Witch
Increase MAG (40%) and SPR (20%) when equipped with a rod
Lexa
4★
Monk's Enlightenment
Increase ATK (40%) and DEF (20%) when equipped with a fist
Yang
4★
Barrier Mage's Oath
Increase SPR (25%)
Increase SPR (25%) when equipped with a staff
Shylt
4★
Instinctual Guard
Increase ATK (40%)
Increase DEF/SPR (60%) when HP drops below 50%
Orochi
4★
Sage of Mysidia
Increase MP (20%) and MAG (40%)
Increase LB gauge (2) per turn
Blossom Sage Sakura
5★
Uncollapsing Will
Increase ATK (40%) when equipped with a sword
Increase HP (30%) when equipped with a light shield
Cedona
4★
White Knight's Soul
Increase ATK (40%) when equipped with a helm
Increase DEF (40%) when equipped with heavy armor
Unstackable
Ray Jack
5★
Sworn Six's Pride - Fire
Increase ATK (30%) when equipped with an axe
Increase ATK (30%) when equipped with heavy armor
Unstackable
Veritas of the Flame
5★
Letters and Arms
Increase MAG (50%) when equipped with a sword
Ingus
3★
Mood Maker
Increase HP (30%)
Increase LB gauge fill rate (200%) for 3 turns to caster at the start of battle
Prompto
5★
Resentment
Increase HP (30%)
Increase DEF (110%) for 3 turns when HP drops below 30%
Eve
4★
Patriotic Recall
Increase HP (30%) and DEF (20%)
Increase light resistance (30%)
Rasler
4★
Wisdom
Increase HP (20%) and ATK (30%)
Queen
5★
Mage's Resolution
Increase MAG (40%) and DEF (20%) when equipped with a rod
William
4★
Sworn Six's Pride - Water
Increase MAG (40%) when equipped with a rod
Increase SPR (40%) when equipped with a staff
Unstackable
Veritas of the Waters
4★
Sworn Six's Pride - Wind
Increase ATK (50%) when equipped with a spear
Increase jump damage (25%)
Unstackable
Veritas of the Heavens
4★
Sworn Six's Pride - Earth
Increase DEF (40%) when equipped with a heavy shield
Increase ATK (40%) when equipped with heavy armor
Unstackable
Veritas of the Earth
4★
Dark Knight's Soul
Increase ATK (30%) when equipped with a sword
Increase ATK (20%) when equipped with a heavy armor
Unstackable
Leon
4★
Katana Mastery
Increase ATK (50%) when equipped with a katana
Unstackable
Chizuru
4★
Dark Bond
Increase MAG (30%) when equipped with a rod
Increase MAG (20%) when equipped with a robe
Unstackable
Dark Fina
5★
Shadow Bearer
Increase ATK (40%) when equipped with a dagger
Decrease chance of being targeted (25%)
Emilia
4★
Quick Assault
Increase ATK (30%)
Increase physical evasion (10%)
Shine
4★
Broadminded
Increase HP (10%), ATK (30%) and DEF (10%)
Ohga
4★
Magic Sanctuary
Increase SPR (15%)
Increase resistance to all elements (25%)
Increase LB gauge (1) per turn
Kryla
5★
Instrumental Flair
Increase HP (25%)
Enables unit to use instruments
Sportive Ariana
4★
Proof of Talent
Increase MAG (30%)
Increase counter chance (25%)
Chloe
4★
Mechanical Heart
Increase HP/SPR (15%)
Chance to counter physical attacks (30%) with Mechanical Heart
Chance to counter magic attacks (30%) with Mechanical Heart
Unstackable
21O
3★
Domineering Spirit
Auto-heal (1800 HP, 1x) per turn
Recover MP (10%) per turn
Increase LB gauge (2) per turn
Dragonlord
5★
Pure White Blessing
Auto-heal (1800 HP, 1x) per turn
Recover MP (10%) per turn
Increase LB gauge (2) per turn
Ayaka
5★
Guard of the Future
Increase ATK/DEF/MAG/SPR (20%)
Recover MP (5%) per turn
Auto-heal (60 HP, 1.2x) per turn
Nyx
5★
Doublehand
Increase equipment ATK (50%) and accuracy (25%) when single wielding a one-handed weapon
Unstackable
Bartz
3★
Love
Increase HP/MP (30%)
Rem
5★
Emperor's Majesty
Increase HP/ATK (20%)
Recover MP (3%) per turn
Sozhe
4★
Power of Creation
Increase ATK/MAG (30%)
Maxwell
5★
Acceptance
Increase MP (20%) and MAG (30%)
Ace
5★
Syldra's Protection
Increase physical damage against aquatics and dragons (50%)
Unstackable
Faris
3★
Dragon Killer
Increase physical damage against dragons (50%)
Unstackable
Skaha
2★
FP Unit
Stone Killer
Increase physical damage against stone monsters (50%)
Unstackable
King Giott
2★
FP Unit
Machine Killer
Increase physical damage against machinas (50%)
Unstackable
Edgar
3★
Aquan Killer
Increase physical damage against aquatics (50%)
Unstackable
Ollie
2★
FP Unit
Yevon's Wisdom
Increase HP/MP (15%)
Increase EVO MAG (10%)
Seymour
4★
Barrier Master
Increase DEF/SPR (15%)
Increase resistance to all elements (15%)
Mystea
4★
Loyal Warrior
Increase ATK (30%)
Increase critical rate (20%)
Cor
4★
Blighted Despot
Increase HP/ATK (20%)
Increase earth resistance (25%)
Scarmiglione
3★
Resolve
Recover MP (7%) per turn
King
4★
Drowned King
Increase DEF (40%)
Increase water resistance (25%)
Cagnazzo
4★
Mighty Defense
Increase DEF (40%)
Golem
3★
Healer's Wisdom
Increase SPR (40%)
Increase potency of healing items (100%)
Ilias
4★
Spirit of Freedom
Increase ATK (15%)
Increase physical evasion (10%)
Unstackable
Yda
4★
Elven Pride
Increase MP (30%) and ATK (20%)
Increase lightning resistance (30%)
Bran
4★
Lunge Combo
Increase MP (10%) and ATK/DEF (20%)
Fencer
4★
Sage's Prajna
Increase HP (10%) and MAG (20%)
Papalymo
4★
Seal of Destruction
Increase HP (10%) and ATK/MAG (20%)
Karl
4★
Goddess's Protection
Increase resistance to all status ailments (100%)
Tilith
4★
Discernment
Increase resistance to all status ailments (100%)
Seven
4★
MAG +30%
Increase MAG (30%)
Shantotto
3★
Fairy's Wisdom
Increase MP (5%) and MAG (25%)
Popoi
3★
Hill Digger
Increase HP (30%) and ATK (10%)
Guy
3★
HP +30%
Increase HP (30%)
Amarant
3★
Seal of Protection
Increase HP (10%) and DEF/SPR (20%)
Seria
4★
Croft's Intuition
Increase HP/MP/ATK/DEF (10%)
Increase resistance to all elements (7%)
Lara Croft
5★
Black Impulse
Increase MAG (20%)
Increase fire, ice, and lightning resistance (25%)
Black Waltz 3
3★
Imperial Talent
Increase HP (5%) and SPR (20%)
Auto-heal (60 HP, 1.2x) per turn
Larsa
3★
Turbulent Evasion
Increase ATK (10%)
Increase physical evasion (5%)
Increase wind resistance (20%)
Unstackable
Toby
3★
Miracle Step
Increase physical evasion (5%)
Increase MP (20%) and MAG/SPR (10%)
Soleil
4★
Ignorance
Increase LB gauge (2) per turn
Jack
3★
Vengeful Wrath
Increase HP (20%)
Increase ATK (110%) for 3 turns when HP drops below 30%
Adam
4★
Sticky Fingers
Increase MP (10%) and MAG/SPR (20%)
Juggler
4★
High Spirits
Increase ATK/MAG (20%)
Yuri
3★
Persistence
Increase DEF/SPR (20%)
Sice
3★
Callous Strategist
Increase HP (20%) and ATK/MAG (15%)
Vayne
4★
Successor
Increase HP/ATK (15%)
Increase fire resistance (20%)
Shera
3★
Knowledge
Increase MAG/SPR (20%)
Trey
3★
Innocence
Increase ATK/DEF (20%)
Cinque
3★
Water God's Protection
Increase MP/SPR (25%)
Increase water resistance (20%)
Luka
4★
Pure Heart
Increase HP/MP (15%) and SPR (20%)
Santa Roselia
4★
Mentality
Increase MP (20%) and SPR (30%)
Refia
4★
Deep Thoughts
Increase MP (30%) and MAG/SPR (10%)
Primm
4★
Resuscitate
Increase ATK/DEF/MAG/SPR (60%) when HP drops below 50%
Ulrica
3★
Melody of Life
Increase resistance to all elements (20%)
Garnet
4★
Camouflage
Decrease chance of being targeted (50%)
Montana
2★
FP Unit
Gun Upgrade
Increase ATK/SPR (20%) when equipped with a gun
Teo
3★
Power of the Sands
Increase ATK/SPR (15%)
Decrease chance of being targeted (10%)
Increase resistance to petrify (100%) (Lara Croft, Explorer Aileen, Divine Soleil, Pharaoh Abel only)
Pharaoh Abel
3★
Dream Maiden's Oracle
Increase MAG (20%) when equipped with a rod
Increase SPR (20%) when equipped with a staff
Sandee
4★
Codex of Sword Master
Increase ATK/MAG (20%) when equipped with a sword
Swordsman Lasswell
4★
Heretic's Abyss
Increase MP/MAG (15%)
Increase dark resistance (20%)
Heltich
3★
Tranquility
Increase HP/MP (15%)
Eight
3★
Symphonic Flair
Increase ATK/MAG (40%) when equipped with an instrument
Unstackable
Dangerous Ariana
4★
MP +30%
Increase MP (30%)
Tellah
3★
Equip H Shield
Allow use of heavy shields
Charlotte
3★
Shard of Genius
Increase DEF (20%) when equipped with a robe
Increase SPR (20%) when equipped with a staff
Y'shtola
5★
Evade
Increase physical evasion (10%)
Cyan
3★
Mog Wisdom
Increase LB gauge fill rate (50%)
Unstackable
Moogle
4★
Hydaelyn Guard
Increase resistance to all elements (10%)
Minfilia
4★
Follower's Oath
Increase HP/ATK (10%)
Thancred
3★
Auto-Limit
Increase LB gauge (1) per turn
Cloud of Darkness
3★
Light's Blessing
Auto-buff ATK (20%)
Auto-buff MAG (20%)
Auto-heal (60 HP, 1.2x) per turn
Warrior of Light
4★
Counter
Chance to counter physical attacks (30%)
Sabin
3★
Equip L Sword
Allow use of great swords
Garland
3★
Equip H Armor
Allow use of heavy armors
Firion
3★
Equip S Sword
Allow use of daggers
Penelo
3★
Equip Axe
Allow use of axes
Lani
3★
Equip Spear
Allow use of spears
Fang
3★
Equip Staff
Allow use of staves
Roselia
3★
Equip Bow
Allow use of bows
Artemios
3★
HP +10%
Increase HP (10%)
Rizer
1★
FP Unit
Action
Increase experience (50%)
Nine
4★
Cover
Chance to protect one ally from physical damage (5%)
Clyne
3★
Active Ability
Name
Type
Description
Unit
Base Rarity
The Beginning of the End
Special
Remove all status effects from all units
Physical damage (3x) with ignore DEF (50%) to all enemies
The Lord of Shadows
5★
Cowered Courage
Passive
+Special
Increase DEF (30%)
Increase earth resistance (30%)
Enable skill: Primal Instinct
Barusa
4★
Dualcast
Special
Use magic twice in one turn
Ludmille
3★
Distraction
Passive
+Special
Increase HP (20%)
Enable skill: Firestarter
Annika Svennson
3★
Heaven's Guidance
Special
Decrease damage taken (40%) for 2 turns to one ally
Orran
4★
Rage - Meteor
Special
Physical damage (2.5x) with ignore DEF (25%) to all enemies
Gau
3★
Barrage
Special
Physical damage combo (4 times, 0.8x each, 3.2x total) to random enemies
Luna
3★
Ultima
Lvl 8
Magic damage (2.8x) with ignore SPR (25%) to all enemies
Terra
3★
Esuna
Lvl 4
Cure poison, blind, sleep, silence, paralyze, and confuse to one ally
Maria
3★
Coin Steal
Special
Physical damage (2x) to one enemy
Steal gil (70-100%) from one enemy
Thief
4★
Bladeblitz
Special
Physical damage (1.4x) to all enemies
Russell
3★
Scorch
Special
Fire magic damage (2.8x) to all enemies
Slime
3★
Meteor
Lvl 7
Magic damage (2.5x) with ignore SPR (25%) to all enemies
Golbez
3★
Flare
Lvl 7
Fire magic damage (2.3x) to one enemy
Decrease water resistance (30%) for 3 turns to one enemy
Kuja
3★
Holy
Lvl 7
Light magic damage (2.3x) to one enemy
Exdeath
3★
Raging Fist
Special
Physical damage (1.2x) with ignore DEF (25%) to one enemy
Kenyu
2★
FP Unit
Bioga Blade
Special
Dark hybrid damage (2.7x) to one enemy
Inflict poison (40%) to one enemy
Duane
3★
Comet
Lvl 5
Magic damage (1.7x) with consecutive increase (2 times, 0.1x each, 1.9x max) to one enemy
Galuf
3★
Holy Blade
Special
Light hybrid damage (4.6x) to one enemy
Rakshasa
3★
Firaga
Lvl 6
Fire magic damage (1.8x) to all enemies
Vivi
3★
Thundaga
Lvl 6
Lightning magic damage (1.8x) to all enemies
Krile
3★
Blizzaga
Lvl 6
Ice magic damage (1.8x) to all enemies
Rydia
3★
Deprotect
Lvl 3
Decrease DEF (20%) for 3 turns to one enemy
Mizell
2★
FP Unit
Lullaby
Special
Inflict sleep (30%) to all enemies
Liza
1★
FP Unit
Paean
Special
Heal (130 HP, 3x) split over 3 turns to all allies while singing
Sarah
2★
FP Unit
Silence Dance
Special
Inflict silence (30%) to all enemies
Sarai
1★
FP Unit
Sunbeam
Special
Magic damage (1.2x) to all enemies
Inflict blind (30%) to all enemies
Carrie
2★
FP Unit
Escape
Special
Escape battle
Paul
2★
FP Unit
Drain Blade
Special
Hybrid damage (1.4x) to one enemy
Physical damage (0.8x) as HP drain (30%) to one enemy
Ronaldo
2★
FP Unit
Drain
Lvl 4
Magic damage (0.8x) as HP drain (30%) to one enemy
Anzelm
3★
Regen
Lvl 4
Heal (400HP, 2x) split over 3 turns to one ally
Anastasis
2★
FP Unit
Drink
Special
Allow use of drinkable items
Mel
2★
FP Unit
Throw
Special
Allow use of throwable items
Shadow
3★
Thundaga Blade
Special
Lightning hybrid damage (2.7x) to one enemy
Bedile
3★
Cleanse
Lvl 5
Cure disease to one ally
Fran
3★
Store
Special
Increase ATK (80%, max 160%) for the next normal attack while increasing damage taken (50%) to caster
Baurg
1★
FP Unit
Fira
Lvl 3
Fire magic damage (1.4x) to all enemies
Tronn
1★
FP Unit
Stonra
Lvl 4
Earth magic damage (1.4x) to all enemies
Paula
2★
FP Unit
Banish
Lvl 2
Light magic damage (1.2x) to one enemy
Leah
1★
FP Unit
Aim
Special
Physical damage (1.2x) to one enemy
Gimlee
1★
FP Unit
Power Shot
Special
Physical damage (1.2x) to one enemy
Maxell
1★
FP Unit
Mirror of Equity
Special
Physical damage (1.2x) to one enemy
Shiki
2★
FP Unit
Fire Beam
Special
Fire magic damage (1.2x) to one enemy
Wedge
2★
FP Unit
Ice Beam
Special
Ice magic damage (1.2x) to one enemy
Biggs
2★
FP Unit
Pilfer
Special
Steal gil (70-100%) from one enemy
Eldin
1★
FP Unit