FINAL FANTASY BRAVE EXVIUS
Platform
iOS, Android
Store
App Store, Google Play, Amazon, ONE store
Language
English, French, German, Spanish, Korean, Traditional Chinese, Thai, Indonesian
Release Date
June 29, 2016
Price
Free to play
Genre
RPG
Developer
Alim, gumi
Publisher
Square Enix
Final Fantasy Brave Exvius is a free-to-play mobile role-playing game developed by Alim and published by Square Enix for iOS and Android devices.
A spinoff of the Final Fantasy series, the game marks as the first collaborative effort between Square Enix and Alim and draws elements from Alim's previous game, Brave Frontier. It was released first in Japan in October 22, 2015. The global version soft-launched in May 12, 2016 in several countries before being released officially in June 29, 2016.
The global version of the game is maintained by a Singapore subsidiary of Alim's parent company, gumi.
The game was first revealed at the Final Fantasy Live Event in Tokyo, November 2014. Eiji Takahashi and Hisatoshi Hayakashi of Brave Frontier both direct and produce the game while Noriyasu Agematsu composed the game's musical score. Illustrations of the characters are handled by Yoshitaka Amano, who illustrated art on early Final Fantasy works.
Gameplay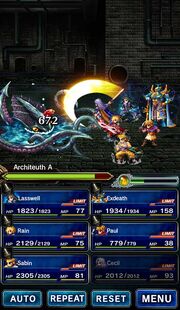 Brave Exvius is designed as a turn-based role-playing game, using elements from the Final Fantasy series with those of Brave Frontier, which in turn modeled their battle system from Valkyrie Profile. Similar to those games, the battle system consists of a simplified interface where players can command their characters to attack by touching the character's corresponding attack button. Special attacks, items, or defend can be used by swiping the button and choosing the desired command.
Players advance in a dungeon through a series of stages until they encounter and defeat the end boss, all while gaining experience points, crafting materials, and money. Also new to the game compared to Brave Frontier is the ability to explore through towns and exploration dungeon through touch control in a classic RPG style, which allows the player to talk to people and interact with them, which sometimes gives the player certain tasks to complete.
The game also uses elements from the Final Fantasy series such as magic spells, character-specific limit bursts, and esper summoning. Those characters are presented in a pixel art style. As part of the game's gacha system, players can summon characters from other Final Fantasy titles, which players can use to build a party of five units. Players can bring one additional unit into battle by utilizing a friend system. By adding other people to the player's friend list, they are able to select their friend's shared unit before entering a dungeon.
Story
In a world filled with fantasy, there are two powerful forces in balance: Vision and Lapis. Vision is the manifestation of people's thoughts and feelings and Lapis is the world where all Magic Crystals exist alongside all the visions of the world. With these powers, people flourished in the land and the whole world prospered. However, sometimes peace can be false and darkness can devour the light. As the world of Lapis is falling to its own destruction, two brave warriors stand up against the darkness with the power of Visions in order to bring peace back to the land.
Characters
Main Characters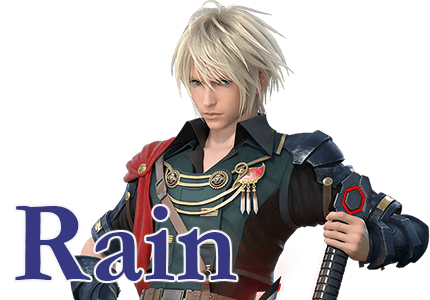 A knight of the Kingdom of Grandshelt. A precocious pilot who was entrusted with command of an airship at the tender age of eighteen, he maintains a carefree—some might say lackadaisical—demeanor. He has the unwavering trust of the king and his nation's people, in large part due to his father's reputation as a stalwart knight of the kingdom.
A knight of the Kingdom of Grandshelt, he shares command of an airship with his childhood friend Rain. His skills are on par with Rain's, and his no-nonsense attitude has earned him the trust of his superiors and subordinates alike. However, he has a tendency to be dragged along by Rain against his own better judgment.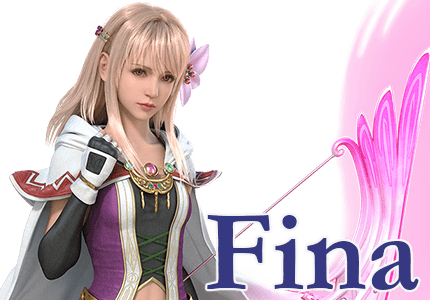 A young girl who emerged from an earth crystal with no recollection of her past save for her name. Fina's lack of general knowledge prompts her to act with the innocence and curiosity of a child. She is proficient with white magic and the bow and arrow, though where she acquired such impressive skills, she cannot say.
Vision
Characters from various Final Fantasy series can be used as units through a phenomenon known as Vision.
Reviews
Due to how the game is operated with a continuous updates throughout its entire product life, review will become outdated and might not reflect how the game is played in the present.
Reviews are taken from Metacritic.
| Publication | Score | Review | Date |
| --- | --- | --- | --- |
| Vandal | 80 | It's a mobile game, but it still feels like a Final Fantasy. JRPG fans will enjoy the game, and it's free-to-play model isn't as aggressive as you might expect. If you've enjoyed this franchise before, it's worth a try. Read full review. | Jul 26, 2016 |
| Meristation | 80 | Final Fantasy Brave Exvius brings the classic FF experience into a Free to Play concept without losing quality. Good music, faithful 16 bit graphics and good gameplay make it a recommendable title, but like in every free to play, we should be ready to either expend a lot of time and effort progressing or prepare the wallet to expend some money to do it faster. Read full review. | Jul 25, 2016 |
| Games Master UK | 79 | We could do with a bit more narrative oomph, but the core game is one which suits the format perfectly. [Sept 2016, p.85] | Sep 6, 2016 |
| Gamezebo | 70 | This is a solid, enjoyable mobile game that'll keep you entertained for a good few hours if you're willing to put the work in and stick with it. Read full review. | Jul 5, 2016 |
| Digitally Downloaded | 70 | It combines the nostalgia of Record Keeper with a typical storyline and free-to-play features that makes it irresistible despite a lack je-ne-sais-quoi/oomph. Read full review. | Jul 26, 2016 |
| TouchArcade | 70 | It's worth a shot if you're a fan of Square's classic RPG series, but in trying to stretch out to two different camps, I fear it may not entirely please either. Read full review. | Jul 6, 2016 |
| CD-Action | 50 | Square tried to give us a modern game heavily inspired by classic Final Fantasy titles, but lost its orientation somewhere on the way. The only advantage of Brave Exvius is the wonderful music during battles. [11/2016, p. 75] | Nov 18, 2016 |
Videos
Screenshots
Artwork
Main article: Art
Frequently Asked Questions
Main article: Frequently Asked Questions
Can I play the game without an internet connection?
No. You must always be online to play the game.
Is this game pay to win? Can I go far without paying?
People who pay more do have an advantage over those who don't. But plenty of Lapis (the in-game currency) and summon tickets are given regularly to all players to summon more units.
Luck plays a part in getting rarer, stronger, units. While they do make the game easier, you can win most battles without them. Understanding the gameplay mechanics, battle, and party dynamics is more important than simply paying for units.
How "grindy" is this game? Can I play this game casually?
The game is as time consuming as you let it be. It has content scaled from casual to hardcore players. Large portions of the game's content can be played and enjoyed with a low to medium time investment. But there is some content that allows you to grind with the same level of time investment generally found in online RPGs.
How often is the game updated?
The game is updated once per week.
Downloads
You can use a single account—linked to a Facebook account—to play on multiple devices. However, if you play on a different platform, you will lose access to your Lapis, the in-game premium currency. Any Lapis you gain is locked to that platform but it will never be removed, and you can regain the Lapis by changing the platform back.
External Links