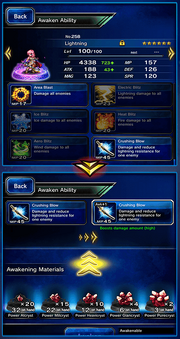 Awakenable abilities are abilities which can be awakened to become even stronger. Awakened abilities are displayed with a different color icon on which their awakening level is displayed.
To awaken your abilities, go to "Units" menu from home screen, and then click on "Awakenable/Latent Abilities" button. Units with awakenable abilities can be selected. Ability awakening materials and Gil are required to awaken an ability.
List of all awakening materials
Having a hard time telling the difference between tiers? Count the number of their spikes!
How to obtain awakening materials
Story Events: T1-T5

Story event usually occur once every month; They are by far the easiest method to obtain T4 and T5 from.
Missions will give you T1-T5 materials, but they are one time only.
Enemies can also drop T1-T5 materials for you to farm.

Exchange Events: T4-T5

Exchange event occur once or twice per month.
These are meant for a big spender as the price is outrageously high, and they are in limited quantity.

Chamber of Crysts (EASY): T1-T3
Chamber of Crysts (HARD): T3-T5
There might also be other events, bundle, and promotion to give out these materials, but those 3 are the most regular way to obtain them.
It has been datamined that the Chamber of Crysts has 3 separate loot tables:
Common Loot = T1-T2
Rare Loot = T3-T5
Unique Loot = None
Certain abilities like Treasure Hunter will increase T1-T2 drop rate while Master Thief will increase T3-T5. For more information about which abilities have an effect, see Drop Rates page.
List of all awakenings
Batch 44 (2/25/2021)
Graceful Champion Fang, Daughter of Destiny Vanille, Neverending Hope
Batch 43 (11/26/2020)
Sora, Riku, Cloud (KH), Sephiroth (KH)
Batch 42 (7/23/2020)
Unit
Abilities
Base Effects
Awakening
Blade of Crystal
(Power)
Hybrid damage (30x) to one enemy
Bolting Strike
Hybrid damage (50x) to one enemy
Bolting Strike
Aurora Tempest
(Black)
Ice and light hybrid damage (30x) to all enemies
Decrease resistance to all elements (50%) for 3 turns to all enemies
Disorder
Ice and light hybrid damage (50x) to all enemies
Decrease resistance to all elements (80%) for 3 turns to all enemies
Disorder
Way of the Blossom
(Healing)
[5 turns cooldown, available on turn 1]
Decrease ice resistance (75%) for 3 turns to all enemies
Mitigate damage taken (30%) for 3 turns to all allies
Grant HP barrier (1000) for 3 turns to all allies
Increase modifier (8x) for 4 turns to caster (can't be dispelled): Blade of Crystal, Blossom - Frost Hedge, Blossom - Vigilance
Increase LB gauge (40) to caster
[5 turns cooldown, available on turn 1]
Decrease ice resistance (120%) for 5 turns to all enemies
Mitigate damage taken (50%) for 5 turns to all allies
Grant HP barrier (3500) for 5 turns to all allies
Increase modifier (8x) for 5 turns to caster (can't be dispelled): Blade of Crystal, Blossom - Frost Hedge, Blossom - Vigilance
Increase LB gauge (40) to caster
MP cost increased to 150
Way of the Aurora
(White)
[5 turns cooldown, available on turn 1]
Decrease light resistance (75%) for 3 turns to all enemies
Increase ATK/MAG (250%) for 3 turns to caster
Increase fire, ice, light, and dark resistance (70%) for 3 turns to all allies
Increase modifier (8x) for 4 turns to caster (can't be dispelled): Aurora - Radiant Might, Aurora - Valor, Blade of Crystal
Increase LB gauge (40) to caster
[5 turns cooldown, available on turn 1]
Decrease light resistance (120%) for 5 turns to all enemies
Increase ATK/MAG (300%) for 5 turns to caster (can't be dispelled)
Increase resistance to all elements (70%) for 5 turns to all allies
Increase modifier (8x) for 5 turns to caster (can't be dispelled): Aurora - Radiant Might, Aurora - Valor, Blade of Crystal
Increase LB gauge (40) to caster
MP cost increased to 200
Celestial Guidance
(Green)
[6 turns cooldown, available on turn 1]
Decrease ice and light resistance (75%) for 3 turns to all enemies
Increase modifier (6x) for 3 turns to all allies (can't be dispelled): Aurora Tempest
Increase modifier (9x) for 3 turns to all allies (can't be dispelled): Aurora Storm
[5 turns cooldown, available on turn 1]
Decrease ice and light resistance (120%) for 5 turns to all enemies
Increase modifier (8x) for 5 turns to all allies (can't be dispelled): Aurora Tempest
Increase modifier (27x) for 5 turns to all allies (can't be dispelled): Aurora Storm
MP cost increased to 150
Aurora Blossom Arts
(Support)
Auto-cast Aurora Blossom Arts at the start of a battle
Auto-cast Aurora Blossom Arts +2Enable skills to caster: Aurora Arts +2, Blossom Arts +2 at the start of a battle
Arch-Rivals
(Guard)
Auto-cast Arch-Rivals every turn if Morgana is alive
Increase HP/MP/ATK/DEF/MAG/SPR (30%)
Auto-cast Arch-Rivals +2Increase physical and magic damage against demons and humans (150%) for 1 turn to caster
Increase ATK/MAG (150%) for 1 turn to caster every turn if Morgana is alive
Increase physical and magic damage against demons and humans (50%)
Astraea's Partner
(Tech)
[Requirement: TMR or STMR equipped]
Increase equipment ATK/MAG (50%) and accuracy (25%) when single wielding any weapon
Increase ATK/DEF/MAG/SPR/HP/MP (30%)
Increase LB damage (50%)
Enable skill: Speed of Light
[Requirement: TMR or STMR equipped]
Increase equipment ATK/MAG (150%) and accuracy (25%) when single wielding any weapon
Increase ATK/DEF/MAG/SPR/HP/MP (50%)
Increase LB damage (100%)
Enable skill: Speed of Light
Precursor of the Aurora
(White)
Increase modifier (8x): Aurora - Radiant Might, Aurora - Valor, Aurora Tempest, Blade of Crystal, Blade of the Dawn, Blade of the Heavens, Blossom - Frost Hedge, Blossom - Vigilance, Purifying Slash
Increase ATK/MAG (60%) when equipped with a sword
Increase ATK/MAG (30%) when equipped with a great sword
Increase modifier (8x): Aurora - Radiant Might, Aurora - Valor, Aurora Tempest, Blade of Crystal, Blade of the Dawn, Blade of the Heavens, Blossom - Frost Hedge, Blossom - Vigilance, Purifying Slash
Increase ATK/MAG (60%) when equipped with a sword
Increase ATK/MAG (60%) when equipped with a great sword
Increase modifier (23x): Aurora - Radiant Might, Aurora - Valor, Blade of the Dawn, Blade of the Heavens, Blossom - Frost Hedge, Blossom - Vigilance, Purifying Slash
Upgrade LB
Mystical Ruler
(White)
Increase MAG (30%) and SPR (10%)
Increase EVO MAG (10%)
Increase DEF (30%), MAG (80%) and SPR (30%)
Increase EVO MAG (10%)
Increase modifier (15x): Storm Winds, Void Blast
Increase modifier (5x): Glacial Needles, Halo Beam
Arch-Rivals
(Guard)
Auto-cast Arch-Rivals every turn if Elena is alive
Increase HP/MP/DEF (30%)
Auto-cast Arch-Rivals +2Increase modifier (3x) for 1 turn to caster (can't be dispelled): Any of Morgana's offensive skills, except Unstable Energy
Increase modifier (5x) for 1 turn to caster (can't be dispelled): Dark Shackles, Freezing Brand every turn if Elena is alive
Increase resistance to paralyze and disease (100%)
Increase equipment MAG (50%) when dual wielding
Utopian Throne
(Tech)
Increase MP (20%)
Increase EVO MAG (20%)
Auto-cast Myriad Arcana at the start of a battle
Increase MP/MAG/SPR (50%) and HP/DEF (20%)
Increase EVO MAG (20%)
Auto-cast Myriad Arcana at the start of a battle
Recover MP (10%) per turn
Increase equipment MAG (50%) when dual wielding
Elemental Enervation
(Green)
[4 turns cooldown, available on turn 1]
Decrease ice, wind, light, and dark resistance (100%) for 3 turns to all enemies
Enable skill for 2 turns to caster: Myriad Arcana
[4 turns cooldown, available on turn 1]
Decrease ice, wind, light, and dark resistance (110%) for 3 turns to all enemies
Enable skill for 3 turns to caster: Myriad Arcana
MP cost reduced to 160
Arcane Trade
(Black)
[4 turns cooldown, available on turn 1]
Increase evocation gauge (8)
[4 turns cooldown, available on turn 1]
Increase evocation gauge (10)
Enable skills for 4 turns to caster: Dark Shackles, Freezing Brand

Auto-cast after 2 turns:
Increase evocation gauge (5)

Auto-cast after 3 turns:
Increase evocation gauge (5)

Auto-cast after 4 turns:
Increase evocation gauge (5)
Unstable Energy
(Healing)
[4 turns cooldown, available on turn 1]
Evoke damage (25/0x, 100%/0% ratio) to all enemies
Increase MAG/SPR (200%) for 3 turns to caster
Increase modifier (3x) for 3 turns to caster (can't be dispelled): Crystallized Spikes, Holy Radiance, Shadow Wail, Storm Gale
Absolute Zero
[4 turns cooldown, available on turn 1]
Evoke damage (40/0x, 100%/0% ratio) to all enemies
Increase MAG/SPR (250%) for 4 turns to caster
Refresh MP (600) split over 4 turns to caster
Increase modifier (3x) for 4 turns to caster (can't be dispelled): Arcane Chaos, Bursting Luminosity, Crystallized Spikes, Glistening Ice, Holy Radiance, Shadow Wail, Spectral Cutter, Storm Gale
Increase modifier (5x) for 4 turns to caster (can't be dispelled): Dark Shackles, Freezing Brand, Glacial Needles, Halo Beam, Storm Winds, Void Blast
Absolute Zero
Empress Supreme
(Power)
Auto-cast Power Evocation at the start of a battle
Increase modifier (1.5x): Crystallized Spikes, Holy Radiance, Shadow Wail, Storm Gale
Increase LB gauge (3) per turn
Auto-cast Power Evocation +2Increase evocation gauge (5) at the start of a battle
Increase modifier (1.5x): Crystallized Spikes, Holy Radiance, Shadow Wail, Storm Gale, Arcane Chaos, Glistening Ice
Increase modifier (2.5x): Dark Shackles, Freezing Brand
Increase LB gauge (5) per turn
Increase LB gauge fill rate (100%)
Solar Divinity
(White)
Light magic damage (4.5x) with consecutive increase (6 times, 2x each, 16.5x max) to all enemies
Chaos Wave
Light magic damage (17.5x) with consecutive increase (5 times, 4x each, 37.5x max) to all enemies
Chaos Wave Awakened
Hit count increased to 8
MP cost reduced to 70
Execution
(Black)
Dark magic damage (4.5x) with consecutive increase (6 times, 2x each, 16.5x max) to all enemies
Chaos Wave
Dark magic damage (17.5x) with consecutive increase (5 times, 4x each, 37.5x max) to all enemies
Chaos Wave Awakened
Hit count increased to 8
MP cost reduced to 70
Deflagrating Heat
(Power)
Fire magic damage (4.5x) with consecutive increase (6 times, 2x each, 16.5x max) to all enemies
Chaos Wave
Fire magic damage (17.5x) with consecutive increase (5 times, 4x each, 37.5x max) to all enemies
Chaos Wave Awakened
Hit count increased to 8
MP cost reduced to 70
Chaotic Nova
(Power)
[7 turns cooldown, available on turn 7]
Magic damage (3x) with ignore SPR (50%) to one enemy
Magic damage (15x) with ignore SPR (50%) to one enemy
Increase LB gauge (20) to caster
Enable skill for 1 use to caster: Power of Chaos
Chaos Wave
[5 turns cooldown, available on turn 5]
Magic damage (3x) with ignore SPR (50%) to one enemy
Magic damage (15x) with ignore SPR (50%) to one enemy
Increase LB gauge (20) to caster
Enable skill for 1 use to caster: Power of Chaos +2
Chaos Wave Awakened
Hit count changed to 7 / 1
Sage's Wisdom
(Support)
[5 turns cooldown, available on turn 1]
Decrease fire, light, and dark resistance (100%) for 4 turns to all enemies
Increase MAG (200%) for 5 turns to caster
Enable skill for 5 turns to caster: Quadruple Obliteration
[4 turns cooldown, available on turn 1]
Decrease fire, light, and dark resistance (110%) for 5 turns to all enemies
Increase MAG (250%) for 5 turns to caster
Enable skill for 5 turns to caster: Quadruple Obliteration
Yuraisha's Teachings
(Tech)
Increase HP/MP (20%)
Increase MAG (50%) when equipped with a rod
Increase HP/MP (20%)
Increase MAG (50%) when equipped with a rod
Increase equipment MAG (150%) and accuracy (25%) when single wielding any weapon
Increase equipment MAG (100%) when dual wielding
Increase LB damage (225%)
Endless Magic
(Guard)
[Requirement: TMR or STMR equipped]
Increase resistance to stop and charm (100%)
Increase equipment MAG (50%) when dual wielding
Chance to ignore fatal damage (100%) when HP is above 1% (max 1 time)
[Requirement: TMR or STMR equipped]
Increase DEF/MAG/SPR/HP/MP (50%)
Increase resistance to silence and disease (100%)
Increase resistance to stop and charm (100%)
Increase equipment MAG (50%) when dual wielding
Chance to ignore fatal damage (100%) when HP is above 1% (max 1 time)
Knight's Command
(Guard)
Increase DEF/SPR (110%) for 4 turns to all allies
Mitigate magic damage taken (30%) for 4 turns to all allies
Increase DEF/SPR (150%) for 4 turns to all allies
Mitigate magic damage taken (40%) for 4 turns to all allies
Knight of Knights
(Guard)
Chance to protect all allies from magic damage (80%) with damage mitigation (50-70%) for 4 turns to caster
Chance to protect all allies from magic damage (80%) with damage mitigation (60-80%) for 4 turns to caster
Increase SPR (150%) for 4 turns to caster
(can't be dispelled)
Increase resistance to SPR break (100%) for 4 turns to caster
Undying Loyalty
(Support)
Increase LB gauge (2) per turn
Increase resistance to confuse and petrify (100%)
Increase resistance to charm (100%)
Increase HP/ATK/DEF/SPR (30%)
Increase LB gauge (4) per turn
Increase resistance to sleep, paralyze, confuse and petrify (100%)
Increase resistance to charm (100%)
Noble Knight
(White)
[Requirement: TMR or STMR equipped]
Increase HP/DEF/SPR (30%)
Chance to ignore fatal damage (80%) when HP is above 5% (max 1 time)
Increase light resistance (70%)
[Requirement: TMR or STMR equipped]
Increase HP/DEF/SPR (50%) and MP (30%)
Chance to ignore fatal damage (100%) when HP is above 5% (max 1 time)
Increase light resistance (70%)
Auto-cast Double Shield and SwordEnable skill for 1 turn to caster: Double Shield and Sword at the start of a battle or after being revived
Upgrade LB
Light of Grandshelt
(Tech)
[5 turns cooldown, available on turn 1]
Mitigate magic damage taken (75%) for 1 turn to all allies
Increase ice and light resistance (100%) for 1 turn to all allies
Enable skills for 4 turns to caster: Divine Punishment, Freezing Punishment
[5 turns cooldown, available on turn 1]
Mitigate magic damage taken (80%) for 2 turns to all allies
Increase ice and light resistance (100%) for 2 turns to all allies
Enable skills for 5 turns to caster: Divine Punishment +2, Freezing Punishment +2
Enable skill for 6 turns to caster: Double Shield and Sword +2
Batch 41 (6/11/2020)
Unit
Abilities
Base Effects
Awakening
Avoid
(Guard)
Negate 2 physical attacks for 3 turns to caster
Grant chance to counter physical attacks (20%) with physical damage (5.5x) for 2 turns to caster
Enable skill for 2 turns to caster: Avoid Attack
Decrease ATK/MAG (70%) for 2 turns to one enemy
Negate 3 physical attacks for 3 turns to caster
Grant chance to counter physical attacks (50%) with physical damage (15x) for 2 turns to caster
Enable skill for 2 turns to caster: Avoid Attack +2
MP cost increased to 45
Retry
(Green)
Chance to ignore fatal damage (80%) when HP is above 10% (max 1 time)
Increase HP (30%) and DEF/SPR (30%)
Chance to ignore fatal damage (100%) when HP is above 10% (max 1 time)
Increase resistance to paralyze, confuse, and petrify (100%)
YoRHa No. 2 Type B
(Support)
[Requirement: TMR or STMR equipped]
Increase ATK/DEF (30%)
Increase equipment ATK (100%) and accuracy (25%) when single wielding any weapon
Recover MP (7%) per turn
Upgrade LB
[Requirement: TMR or STMR equipped]
Increase ATK/DEF (50%)
Increase equipment ATK (100%) and accuracy (25%) when single wielding any weapon
Recover MP (10%) per turn
Upgrade LB +1
Increase LB damage (100%)
Update: 2B
(Tech)
Increase MP/ATK/SPR (40%)
Increase physical damage against machinas (50%)
Increase equipment ATK (50%) when dual wielding
Increase HP (30%) and MP/ATK/SPR (70%)
Increase physical damage against machinas (100%)
Increase equipment ATK (100%) when dual wielding
Increase chain modifier cap (6x) when dual wielding
Supreme Support Weapon
(Black)
[7 turns cooldown, available on turn 1]
Decrease ATK/DEF/MAG/SPR (70%) for 3 turns to all enemies
Increase ATK/DEF (250%) for 5 turns to caster
Enable skills for 6 turns to caster: Avoid Attack, True Charge Blade, True Charge Spear, True Charge Volt
[6 turns cooldown, available on turn 1]
Decrease ATK/DEF/MAG/SPR (80%) for 3 turns to all enemies
Increase ATK/DEF (250%) for 6 turns to caster (can't be dispelled)
Increase LB gauge (10) to caster
Enable skills for 6 turns to caster: Avoid Attack +2, True Charge Blade +2, True Charge Spear +2, True Charge Volt +2
YoRHa Sword Dance
(Power)
[4 turns cooldown, available on turn 4]
Lightning physical damage (15x) to one enemy
Decrease ATK/DEF/MAG/SPR (50%) for 3 turns to one enemy
Enable skills for 4 turns to caster: Extract Speed, YoRHa Slaughter Dance
Graviton Cannon
[4 turns cooldown, available on turn 4]
Lightning physical damage (40x) to one enemy
Decrease ATK/DEF/MAG/SPR (75%) for 3 turns to one enemy
Increase LB gauge (5) to caster
Enable skills for 4 turns to caster: Extract Speed +2, YoRHa Slaughter Dance +2
Graviton Cannon
Stealth Enhancer
(White)
Negate 3 physical attacks for 3 turns to caster
Negate 3 physical attacks for 3 turns to caster
Negate 2 physical attacks for 3 turns to all allies, except caster
MP cost increased to 45
Mechanical Augmentations
(Guard)
Increase ATK (20%)
Enable dual wielding of one-handed weapons
Increase HP/ATK/DEF/SPR (50%)
Enable dual wielding of one-handed weapons
Increase resistance to paralyze, confuse, and petrify (100%)
Increase equipment ATK (60%) when dual wielding
TESLA
(Black)
Lightning physical damage (3.5x) to one enemy
Decrease lightning resistance (50%) for 3 turns to one enemy
Inflict paralyze (60%) to one enemy
Lightning physical damage (20x) to one enemy
Decrease lightning resistance (100%) for 5 turns to one enemy
Inflict paralyze (60%) to one enemy
Increase ATK (200%) for 5 turns to caster
Add lightning element to physical attacks for 5 turns to caster
Stardust Ray
Hit count increased to 10
Nanoblade
(Power)
Physical damage (3x) with consecutive increase (11 times, 1x each, 14x total) to one enemy
Physical damage (26x) with consecutive increase (3 times, 3x each, 35x max) to one enemy
Stardust Ray
Hit count increased to 10
Juggernaut Collective Agent
(Power)
[Requirement: TMR or STMR equipped]
Increase equipment ATK (60%) when dual wielding
Increase ATK/DEF/SPR (20%)
Auto-cast Juggernaut Collective Agent at the start of a battle
[Requirement: TMR or STMR equipped]
Increase equipment ATK (100%) when dual wielding
Increase ATK (50%) and DEF/SPR (20%)
Increase LB damage (200%)
Auto-cast Juggernaut Collective Agent at the start of a battle
Upgrade LB
Explosive Heat Blade
(Green)
[5 turns cooldown, available on turn 5]
Fire physical damage (12x) to one enemy
Decrease fire resistance (100%) for 3 turns to one enemy
[5 turns cooldown, available on turn 1]
Decrease fire resistance (100%) for 5 turns to one enemy
Fire physical damage (45x) to one enemy
Add fire element to physical attacks for 5 turns to caster
Stardust Ray
Hit count increased to 10
MP cost reduced to 90
Typhoon Explosive System
(Power)
[6 turns cooldown, available on turn 1]
Fire physical damage (12x) to all enemies
Decrease fire resistance (75%) for 3 turns to all enemies
Tornado
[5 turns cooldown, available on turn 1]
Fire Physical damage (50x) to all enemies
Decrease fire resistance (100%) for 5 turns to all enemies
Aureole Ray
Hit count increased to 30
Remote Hacking
(Tech)
[5 turns cooldown, available on turn 5]
Increase physical damage against machinas (75%) for 1 turn to caster
Physical damage (17x) to one enemy
[5 turns cooldown, available on turn 1]
Increase physical damage against machinas (150%) for 3 turns to caster
Increase ATK (250%) for 999 turns to caster (can't be dispelled)
Increase LB gauge (34) to caster
Physical damage (35x) to one enemy
Stardust Ray
Hit count increased to 10
Focus Enhancement
(Support)
Increase ATK (50%)
Increase modifier (2x): Nanoblade, P.E.P.S. Knockback, Quicksilver Reflex Booster, TESLA
Increase MP (50%) and ATK (80%)
Increase modifier (2x): Nanoblade, P.E.P.S. Knockback, Quicksilver Reflex Booster, TESLA
Recover MP (10%) per turn
Increase chain modifier cap (200%) when dual wielding
Enable skill: Tactical Combination
Myyah Factor
(Support)
Increase MAG (30%)
Increase physical and magic damage against machinas (50%)
Increase HP/DEF/MAG (60%)
Increase physical and magic damage against machinas (100%)
Elehayym
(Support)
Increase MP (20%) and MAG (30%)
Increase fire, water, wind, and earth resistance (30%)
Increase LB gauge (2) per turn
Increase MP (60%), DEF (40%), MAG (60%) and SPR (40%)
Increase fire, water, wind, and earth resistance (50%)
Increase LB gauge (5) per turn
Increase resistance to paralyze and petrify (100%)
The Antitype
(Tech)
Increase LB damage (50%)
Increase equipment MAG (40%) when single wielding any weapon
Increase equipment MAG (40%) when dual wielding
Increase modifier (2x): Anemo Bolt, Aqua Ice, Terra Lance, Thermo Cube
Increase LB damage (100%)
Increase equipment MAG (150%) when single wielding any weapon
Increase equipment MAG (150%) when dual wielding
Increase modifier (2x): Anemo Bolt, Aqua Ice, Terra Lance, Thermo Cube
Upgrade LB
Anemo Wave
(Green)
Wind magic damage (4.5x) with consecutive increase (5 times, 2x each, 14.5x max) to all enemies
Chaos Wave
Wind magic damage (7x) with consecutive increase (5 times, 4x each, 27x max) to all enemies
Add wind element to physical attacks for 5 turns to caster
Increase LB gauge (10) to caster
Chaos Wave Awakened
Hit count increased to 8
MP cost reduced to 60
Terra Ghost
(Guard)
Earth magic damage (4.5x) with consecutive increase (5 times, 2x each, 14.5x max) to all enemies
Earth magic damage (7x) with consecutive increase (5 times, 4x each, 27x max) to all enemies
Add earth element to physical attacks for 5 turns to caster
Increase LB gauge (10) to caster
Chaos Wave Awakened
Hit count increased to 8
MP cost reduced to 60
Thermo Largo
(Power)
Fire magic damage (4.5x) with consecutive increase (5 times, 2x each, 14.5x max) to all enemies
Fire magic damage (7x) with consecutive increase (5 times, 4x each, 27x max) to all enemies
Add fire element to physical attacks for 5 turns to caster
Increase LB gauge (10) to caster
Chaos Wave Awakened
Hit count increased to 8
MP cost reduced to 60
Aqua Lord
(Healing)
Water magic damage (4.5x) with consecutive increase (5 times, 2x each, 14.5x max) to all enemies
Water magic damage (7x) with consecutive increase (5 times, 4x each, 27x max) to all enemies
Add water element to physical attacks for 5 turns to caster
Increase LB gauge (10) to caster
Chaos Wave Awakened
Hit count increased to 8
MP cost reduced to 60
Paradigm Shift
(White)
[5 turns cooldown, available on turn 1]
Refresh MP (240) split over 3 turns to caster
Enable skill for 2 turns to caster: Quintuple Ether
Decrease fire, water, wind and earth resistance (100%) for 3 turns to all enemies
[5 turns cooldown, available on turn 1]
Increase MAG (250%) for 5 turns to caster (can't be dispelled)
Refresh MP (600) split over 5 turns to caster
Enable skill for 3 turns to caster: Quintuple Ether
Decrease fire, water, wind and earth resistance (100%) for 5 turns to all enemies
Eschatology
(Black)
[3 turns cooldown, available on turn 3]
Magic damage (16x) to one enemy
Increase LB gauge (10) to caster
[3 turns cooldown, available on turn 1]
Magic* damage (40x) to one enemy
Increase LB gauge (32) to caster
Increase LB damage (150%) for 2 turns to caster (can't be dispelled)
Hasten Speech
(Tech)
Cast 2 times: Any of Rena's skills, except Silence, Light Cross, Mother's Protection
Cast 2 times: Any of Rena's skills
Enhanced Dispel
(Green)
Cure all status ailments to all allies
Cure stop to all allies
Cure all status ailments to all allies
Cure stop to all allies
Increase resistance to all status ailments (100%) for 5 turns to all allies
Increase resistance to stop (100%) for 5 turns to all allies
MP cost increased to 70
Reflection
(Guard)
Increase SPR (80%) for 5 turns to all allies
Mitigate magic damage taken (20%) for 5 turns to all allies
Increase SPR (150%) for 5 turns to all allies
Mitigate magic damage taken (35%) for 5 turns to all allies
Martial Arts Knowledge
(Tech)
Increase SPR (50%) and HP (30%) when equipped with a fist
Increase resistance to paralyze (100%)
Increase resistance to stop (100%)
Increase SPR (80%) and HP (60%) when equipped with a fist
Increase resistance to paralyze, confuse, and petrify (100%)
Increase resistance to stop (100%)
Enable dual wielding of one-handed weapons
Time Traveler
(Support)
[Requirement: TMR or STMR equipped]
Increase SPR/MP (40%)
Decrease chance of being targeted (30%)
Increase LB gauge fill rate (50%)
[Requirement: TMR or STMR equipped]
Increase SPR/MP (60%) and DEF (20%)
Decrease chance of being targeted (30%)
Increase LB gauge fill rate (100%)
Recover MP (10%) per turn
Upgrade LB
Enshelter+
(Green)
Mitigate damage taken (20%) for 3 turns to all allies
Mitigate damage taken (30%) for 5 turns to all allies
Increase resistance to ATK/DEF/MAG/SPR break and charm (100%) for 5 turns to all allies
MP cost increased to 50
Fix Cloud
(Black)
[4 turns cooldown, available on turn 1]
Magic damage (4x) with SPR scaling to all enemies
Inflict stop (60%) for 2 turns to all enemies
[4 turns cooldown, available on turn 1]
Decrease light resistance (120%) for 3 turns to all enemies
Light magic damage (45x) with SPR scaling to all enemies
Inflict stop (60%) for 2 turns to all enemies
Add light element to physical attacks for 3 turns to all allies
MP cost increased to 120
Light Cross
(White)
Light magic damage (10.4x) with SPR scaling to all enemies
Divine Ruination
Light magic damage (60x) with SPR scaling to all enemies
Divine Ruination
MP cost reduced to 80
Mother's Protection
(Guard)
[6 turns cooldown, available on turn 1]
Auto-revive (80% HP) for 3 turns to all allies
Increase DEF/SPR (130%) for 3 turns to all allies
[6 turns cooldown, available on turn 1]
Auto-revive (80% HP) for 4 turns to all allies
Increase DEF/SPR (200%) for 4 turns to all allies (can't be dispelled)
Mitigate magic damage taken (50%) for 2 turns to all allies
Two Mothers' Blessings
(Tech)
Increase HP/MP/DEF/MAG (20%) and SPR (50%)
Increase HP/MP/DEF/MAG (50%) and SPR (80%)
Increase equipment SPR (100%) when dual wielding
Batch 40 (5/21/2020)
Unit
Abilities
Base Effects
Awakening
Anti-Fairy Module
(White)
Increase physical damage against fairies (150%) for 2 turns to caster
Increase LB gauge (25) to caster
Increase modifier (5x) for 1 turn to caster (can't be dispelled): Regina Cannon
Increase physical damage against fairies (200%) for 2 turns to caster
Increase LB gauge (25) to caster
Increase modifier (8x) for 1 turn to caster (can't be dispelled): Regina Cannon
Anti-Demon Module
(Black)
Increase physical damage against demons (150%) for 2 turns to caster
Increase LB gauge (25) to caster
Increase modifier (5x) for 1 turn to caster (can't be dispelled): Regina Cannon
Increase physical damage against demons (200%) for 2 turns to caster
Increase LB gauge (25) to caster
Increase modifier (8x) for 1 turn to caster (can't be dispelled): Regina Cannon
Anti-Machine Module
(Green)
Increase physical damage against machinas (150%) for 2 turns to caster
Increase LB gauge (25) to caster
Increase modifier (5x) for 1 turn to caster (can't be dispelled): Regina Cannon
Increase physical damage against machinas (200%) for 2 turns to caster
Increase LB gauge (25) to caster
Increase modifier (8x) for 1 turn to caster (can't be dispelled): Regina Cannon
Power Generator
(Power)
[4 turns cooldown, available on turn 1]
Increase ATK/DEF/MAG/SPR (250%) for 2 turns to caster
Increase LB gauge (25) to caster
Increase modifier (10x) for 1 turn to caster (can't be dispelled): Regina Cannon
[4 turns cooldown, available on turn 1]
Increase ATK/DEF/MAG/SPR (250%) for 2 turns to caster (can't be dispelled)
Increase LB gauge (25) to caster
Increase modifier (33x) for 1 turn to caster (can't be dispelled): Regina Cannon
Master Order
(Support)
Fixed damage (3000) to all allies, except caster
Mitigate damage taken (50%) for 1 turn to caster
Recover HP/MP (100%) to caster
Increase LB gauge (100) to caster
Fixed damage (1500) to all allies, except caster
Mitigate damage taken (50%) for 1 turn to caster
Recover HP/MP (100%) to caster
Increase LB gauge (100) to caster
Increase LB damage (200%) for 2 turns to caster (can't be dispelled)
Customized Manus
(Tech)
Increase ATK (30%)
Increase equipment ATK (50%) and accuracy (25%) when single wielding any weapon
Increase ATK (30%)
Increase equipment ATK (100%) and accuracy (25%) when single wielding any weapon
Armament Extension
(Support)
[Requirement: TMR or STMR equipped]
Increase ATK (50%)
Increase equipment ATK (100%) and accuracy (25%) when single wielding any weapon
Increase resistance to paralyze and petrify (100%)
Increase resistance to stop (100%)
[Requirement: TMR or STMR equipped]
Increase ATK/DEF/SPR/HP/MP (50%)
Increase equipment ATK (100%) and accuracy (25%) when single wielding any weapon
Increase resistance to paralyze and petrify (100%)
Increase resistance to stop (100%)
Absolute Mirror of Equity
(Power)
Physical damage (0.5x) with ignore DEF (50%) to one enemy
Physical damage (3.25x) with consecutive increase (3 times, 1.25x each, 7x max) to one enemy
Absolute Mirror of Equity
Physical damage (0.5x) with ignore DEF (50%) to one enemy
Physical damage (7x) with consecutive increase (3 times, 5x each, 22x max max) to one enemy
Absolute Mirror of Equity
Mirror of Equity - Acuity
(Power)
Physical damage (3x) to one enemy
Increase modifier (0.25x) for 5 turns to caster (can't be dispelled): Absolute Mirror of Equity, Mirror of Equity - Acuity, Mirror of Equity - Disorder, Mirror of Equity - Supremacy, Mirror of Equity - Emptiness, True Mirror of Equity
Restore MP (100) to caster
Absolute Mirror of Equity
Physical damage (12x) to one enemy
Increase modifier (0.5x) for 5 turns to caster (can't be dispelled): Absolute Mirror of Equity, Mirror of Equity - Acuity, Mirror of Equity - Disorder, Mirror of Equity - Supremacy, Mirror of Equity - Emptiness, True Mirror of Equity
Restore MP (150) to caster
Absolute Mirror of Equity
Mirror of Equity - Disorder
(Healing)
Physical damage (2.8x) to all enemies
Increase modifier (0.25x) for 5 turns to caster (can't be dispelled): Absolute Mirror of Equity, Mirror of Equity - Acuity, Mirror of Equity - Disorder, Mirror of Equity - Supremacy, Mirror of Equity - Emptiness, True Mirror of Equity
Restore HP (3000) and MP (100) to caster
Absolute Mirror of Equity
Physical damage (11.8x) to all enemies
Increase modifier (0.5x) for 5 turns to caster (can't be dispelled): Absolute Mirror of Equity, Mirror of Equity - Acuity, Mirror of Equity - Disorder, Mirror of Equity - Supremacy, Mirror of Equity - Emptiness, True Mirror of Equity
Restore HP (4000) and MP (100) to caster
Absolute Mirror of Equity
True Mirror of Equity
(Black)
[4 turns cooldown, available on turn 4]
Physical damage (1.5x) with ignore DEF (50%) to one enemy
Physical damage (5x) with ignore DEF (50%) to one enemy
Increase modifier (1.5x) for 4 turns to caster (can't be dispelled): Absolute Mirror of Equity, Mirror of Equity - Acuity, Mirror of Equity - Disorder, Mirror of Equity - Supremacy, Mirror of Equity - Emptiness, True Mirror of Equity
Absolute Mirror of Equity
[4 turns cooldown, available on turn 4]
Physical damage (1.5x) with ignore DEF (50%) to one enemy
Physical damage (15x) with ignore DEF (50%) to one enemy
Increase ATK (250%) for 4 turns to caster
Increase modifier (2.5x) for 5 turns to caster (can't be dispelled): Absolute Mirror of Equity, Mirror of Equity - Acuity, Mirror of Equity - Disorder, Mirror of Equity - Supremacy, Mirror of Equity - Emptiness, True Mirror of Equity
Absolute Mirror of Equity
Thousand Slashes
(Tech)
Increase equipment ATK (100%) and accuracy (25%) when single wielding any weapon
Increase ATK (30%) when equipped with a katana
Increase equipment ATK (150%) and accuracy (25%) when single wielding any weapon
Increase ATK (30%) when equipped with a katana
Auto-cast Triple Blade Art at the start of a battle
Increase resistance to confuse (100%)
Soul of Ashes
(Power)
Increase LB gauge fill rate (50%)
Increase ATK/DEF (30%) when equipped with a katana
Increase LB gauge fill rate (100%)
Increase HP/MP/ATK/DEF/SPR (60%) when equipped with a katana
Increase LB damage (100%)
Scorch
(Black)
Fire physical damage (4.5x) to one enemy
Decrease fire resistance (100%) for 5 turns to one enemy
Absolute Mirror of Equity
Fire physical damage (16x) to one enemy
Decrease fire resistance (120%) for 5 turns to one enemy
Absolute Mirror of Equity
MP cost increased to 40
Strength of the Orders
(Support)
Increase HP/MP/ATK/DEF (30%)
Increase HP/MP/ATK/DEF/SPR (50%)
Increase physical damage against humans (100%)
Increase resistance to confuse (100%)
Perfect Void
(Support)
[10 turns cooldown, available on turn 1]
Increase ATK (250%) for 10 turns to caster
Increase modifier (1x) for 10 turns to caster (can't be dispelled): Absolute Mirror of Equity, Mirror of Equity - Acuity, Mirror of Equity - Disorder, Mirror of Equity - Supremacy, Obliterating Mirror of Equity's Roar, True Mirror of Equity
[5 turns cooldown, available on turn 1]
Increase ATK (250%) for 999 turns to caster (can't be dispelled)
Increase modifier (2x) for 999 turns to caster (can't be dispelled): Absolute Mirror of Equity, Mirror of Equity - Acuity, Mirror of Equity - Disorder, Mirror of Equity - Supremacy, Obliterating Mirror of Equity's Roar, True Mirror of Equity
Soul of Ashes
(Guard)
Increase ATK/DEF (30%) when equipped with a katana
Increase LB gauge fill rate (50%)
Increase HP/MP/ATK/DEF/SPR (30%) when equipped with a katana
Increase LB gauge fill rate (100%)
Increase LB damage (100%)
True Mirror of Equity
(Tech)
[4 turns cooldown, available on turn 4]
Physical damage (1.5x) with ignore DEF (50%) to one enemy
Physical damage (5x) with ignore DEF (50%) to one enemy
Increase modifier (1.5x) for 4 turns to caster (can't be dispelled): Absolute Mirror of Equity, Mirror of Equity - Acuity, Mirror of Equity - Disorder, Mirror of Equity - Supremacy, Obliterating Mirror of Equity's Roar, True Mirror of Equity
Enable skill for 2 turns to caster: Triple Blade Art
Absolute Mirror of Equity
[4 turns cooldown, available on turn 4]
Physical damage (1.5x) with ignore DEF (50%) to one enemy
Physical damage (7.5x) with ignore DEF (50%) to one enemy
Increase modifier (2.5x) for 5 turns to caster (can't be dispelled): Absolute Mirror of Equity, Mirror of Equity - Acuity, Mirror of Equity - Disorder, Mirror of Equity - Supremacy, Obliterating Mirror of Equity's Roar, True Mirror of Equity
Enable skill for 3 turns to caster: Triple Blade Art
Absolute Mirror of Equity
Obliterating Mirror of Equity's Roar
(Black)
Physical damage (1x) with ignore DEF (50%) to one enemy
Physical damage (4x) with consecutive increase (4 times, 1.5x each, 10x max) to all enemies
Absolute Mirror of Equity
Physical damage (1x) with ignore DEF (50%) to one enemy
Physical damage (8.5x) with consecutive increase (3 times, 2x each, 14.5x max) to all enemies
Absolute Mirror of Equity
Royal Virtue
(Healing)
Increase DEF/SPR (20%)
Increase resistance to confuse (100%)
Increase DEF/SPR (60%)
Increase resistance to confuse (100%)
Recover MP (5%) per turn
Increase LB gauge (3) per turn
Dual Stratagem
(Tech)
Cast 2 times: Anti-Force Stratagem, Anti-Magic Stratagem, Corporeal Stratagem, Defensive Stratagem, Earth & Wind Barrier, Light & Dark Barrier, Martyr's Stratagem, Offensive Stratagem, Resurgence Stratagem, Ruination Stratagem, Shield's Stratagem, Sorcerer's Stratagem, Spiritual Stratagem, Sustainment Stratagem, Sword's Stratagem, Unyielding Stratagem
Cast 2 times: Any of Yuraisha's skills
Anti-Force Stratagem
(Guard)
Mitigate physical damage taken (20%) for 3 turns to all allies
Restore HP (3000) to all allies
Mitigate physical damage taken (35%) for 3 turns to all allies
Restore HP (3000) to all allies
Increase LB gauge (4-6) to all allies
MP cost increased to 45
Anti-Magic Stratagem
(Guard)
Mitigate magic damage taken (20%) for 3 turns to all allies
Restore MP (30) to all allies
Mitigate magic damage taken (35%) for 3 turns to all allies
Restore MP (30) to all allies
Increase LB gauge (4-6) to all allies
MP cost increased to 45
Mother of Hess
(Support)
Increase MP (30%)
Increase wind, earth, and dark resistance (30%)
Increase LB gauge (2) per turn
Increase HP (50%) and MP (60%)
Increase wind, earth, and dark resistance (50%)
Increase LB gauge (2) per turn
Upgrade LB
Hunter's Stratagem
(Green)
Increase physical damage against beasts (50%) for 3 turns to one ally
Increase magic damage against beasts (50%) for 3 turns to one ally
Increase ATK/MAG (200%) for 5 turns to one ally
Increase physical damage against beasts (75%) for 5 turns to one ally
Increase magic damage against beasts (75%) for 5 turns to one ally
Exorcist's Stratagem
(Black)
Increase physical damage against demons (50%) for 3 turns to one ally
Increase magic damage against demons (50%) for 3 turns to one ally
Increase ATK/MAG (200%) for 5 turns to one ally
Increase physical damage against demons (75%) for 5 turns to one ally
Increase magic damage against demons (75%) for 5 turns to one ally
Sustainment Stratagem
(White)
[5 turns cooldown, available on turn 1]
Increase ATK/MAG (170%) for 3 turns to all allies
Fixed damage (4000) to caster
Increase LB gauge (5) to all allies
Enable skills for 4 turns to caster: Resurgence Stratagem, Ruination Stratagem
[5 turns cooldown, available on turn 1]
Increase ATK/MAG (200%) and DEF/SPR (150%) for 5 turns to all allies
Fixed damage (4000) to caster
Increase LB gauge (5) to all allies
Enable skills for 5 turns to caster: Resurgence Stratagem +2, Ruination Stratagem +2
MP cost increased to 120
Unyielding Stratagem
(Support)
[7 turns cooldown, available on turn 1]
Mitigate damage taken (40%) for 3 turns to all allies
Increase resistance to blind, sleep, paralyze, confuse, disease, and petrify (100%) for 3 turns to all allies
[5 turns cooldown, available on turn 1]
Mitigate damage taken (50%) for 3 turns to all allies
Increase resistance to all status ailments (100%) for 3 turns to all allies
Increase resistance to stop (100%) for 3 turns to all allies
Batch 39 (4/30/2020)
Unit
Abilities
Base Effects
Awakening
Fight
(Support)
Increase ATK/DEF/MAG/SPR (10%)
Increase ATK (100%) and DEF/MAG/SPR (50%)
Increase LB damage (180%)
Recover MP (15%) per turn
Increase modifier (34x): High Wind
Increase modifier (40x): Dragon Slayer
Blaze Blade
(Power)
Physical damage (1x) to one enemy
Decrease fire resistance (50%) for 2 turns to one enemy
Add fire element to physical attacks for 2 turns to caster
Physical damage (33x) to one enemy
Decrease fire resistance (120%) for 3 turns to one enemy
Add fire element to physical attacks for 3 turns to caster
Storm Edge
(Black)
Physical damage (8x) to one enemy
Decrease DEF (50%) for 1 turn to one enemy
Physical damage (29x) to one enemy
Decrease DEF (65%) for 1 turn to one enemy
Dead End
(Power)
[3 turns cooldown, available on turn 3]
Physical damage (12x) to one enemy
[2 turns cooldown, available on turn 2]
Physical damage (50x) to one enemy
Fight
(Support)
Increase ATK/DEF/MAG/SPR (10%)
Increase ATK (90%) and DEF/MAG/SPR (50%)
Increase LB gauge (5) per turn
Increase LB damage (60%)
Recover MP (5%) per turn
Chooser of the Slain
(Tech)
Increase HP/MP (10%)
Increase rare item drop rate (30%)
Increase HP/MP (10%)
Increase rare item drop rate (30%)
Increase modifier (30x): Code Break, Vertical Raid
Increase modifier (24x): Infinity Blast, Tri-Blast
Increase modifier (7x): Ethereal Shot
Glowing Pierce
(Power)
Physical damage (2x) with ignore DEF (50%) to one enemy
Decrease light and dark resistance (60%) for 2 turns to one enemy
Piledriver
Physical damage (14x) with ignore DEF (50%) to one enemy
Decrease light and dark resistance (100%) for 2 turns to one enemy
Piledriver
Radiant White Wings
(White)
[5 turns cooldown, available on turn 5]
Physical damage (10x) to all enemies
Decrease light and dark resistance (100%) for 3 turns to all enemies
[5 turns cooldown, available on turn 1]
Increase ATK (200%) for 1 turn to caster
Physical damage (50x) to all enemies
Decrease light and dark resistance (120%) for 4 turns to all enemies
Fight
(Tech)
Increase ATK/DEF/MAG/SPR (10%)
Increase ATK/DEF/MAG/SPR (50%)
Increase LB damage (150%)
Increase modifier (33x): Thunder Sword
Recover MP (5%) per turn
Upgrade LB
Prepare to be cleansed!
(Guard)
Chance to counter physical attacks (20%) with Prepare to be cleansed!Prepare to be cleansed!
Decrease SPR (60%) for 1 turn to one enemy
Increase LB gauge (5) to caster
Increase MAG (100%, max 100%) for 1 action to caster (max 1/turn)
Chance to counter magic attacks (20%) with Prepare to be cleansed!Prepare to be cleansed!
Decrease SPR (60%) for 1 turn to one enemy
Increase LB gauge (5) to caster
Increase MAG (100%, max 100%) for 1 action to caster (max 1/turn)
Chance to counter physical attacks (50%) with Prepare to be cleansed!Prepare to be cleansed!
Decrease SPR (60%) for 1 turn to one enemy
Increase LB gauge (15) to caster
Increase MAG (100%, max 100%) for 1 action to caster (max 1/turn)
Chance to counter magic attacks (50%) with Prepare to be cleansed!Prepare to be cleansed!
Decrease SPR (60%) for 1 turn to one enemy
Increase LB gauge (15) to caster
Increase MAG (100%, max 100%) for 1 action to caster (max 1/turn)
Aerial Burst
(Black)
Magic damage (1.6x) to one enemy
Decrease SPR (50%) for 0 turn to one enemy
Magic damage (34.6x) to one enemy
Decrease SPR (80%) for 0 turn to one enemy
Mystic Zone
(Healing)
Increase MAG (30%)
Increase MAG (100%) when HP drops below 80%
Increase HP/MP (20%) and MAG (30%)
Increase MAG (200%) when HP drops below 80%
Victory Sword
(Power)
Magic damage (2x) to one enemy
Magic damage (4x) to one enemy
Magic damage (2x) to one enemy
Magic damage (38x) to one enemy
Heavenly Punishment
(Power)
[4 turns cooldown, available on turn 4]
Magic damage (12x) to one enemy
[4 turns cooldown, available on turn 4]
Magic damage (50x) to one enemy
Batch 38 (4/23/2020)
Unit
Abilities
Base Effects
Awakening
Fairy's Gavotte
(White)
Increase ATK/MAG/DEF/SPR (120%) for 2 turns to all allies while singing
Increase ATK/MAG/DEF/SPR (180%) for 3 turns to all allies while singing
Add light element to physical attacks for 3 turns to all allies

Auto-cast next turn:
Increase ATK/DEF/MAG/SPR (180%) for 2 turns to all allies
Add light element to physical attacks for 2 turns to all allies
Increase LB gauge (8) to caster

Auto-cast after 2 turns:
Increase ATK/DEF/MAG/SPR (180%) for 1 turn to all allies
Add light element to physical attacks for 1 turn to all allies
Increase LB gauge (8) to caster
Passionate Fugue
(Power)
Increase ATK/MAG (140%) for 2 turns to all allies while singing
Decrease DEF/SPR (55%) for 2 turns to all enemies
Refresh (24 MP, 0.24x) split over 2 turns to all allies while singing
Increase ATK/MAG (200%) for 3 turns to all allies
Decrease DEF/SPR (75%) for 3 turns to all enemies
Refresh (36 MP, 0.36x) split over 3 turns to all allies

Auto-cast next turn:
Increase ATK/MAG (200%) for 2 turns to all allies
Decrease DEF/SPR (75%) for 2 turns to all enemies
Refresh (24 MP, 0.24x) split over 2 turns to all allies
Increase LB gauge (8) to caster

Auto-cast after 2 turns:
Increase ATK/MAG (200%) for 1 turn to all allies
Decrease DEF/SPR (75%) for 1 turn to all enemies
Refresh (12 MP, 0.12x) split over 1 turn to all allies
Increase LB gauge (8) to caster
Spiritual Rondo
(Guard)
Increase DEF/SPR (140%) for 2 turns to all allies while singing
Decrease ATK/MAG (55%) for 2 turns to all enemies
Heal (850 HP, 6x) split over 2 turns to all allies while singing
Increase DEF/SPR (200%) for 3 turns to all allies
Decrease ATK/MAG (75%) for 3 turns to all enemies
Heal (1275 HP, 9x) split over 3 turns to all allies

Auto-cast next turn:
Increase DEF/SPR (200%) for 2 turns to all allies
Decrease ATK/MAG (75%) for 2 turns to all enemies
Heal (850 HP, 6x) split over 2 turns to all allies
Increase LB gauge (8) to caster

Auto-cast after 2 turns:
Increase DEF/SPR (200%) for 1 turn to all allies
Decrease ATK/MAG (75%) for 1 turn to all enemies
Heal (425 HP, 3x) split over 1 turn to all allies
Increase LB gauge (8) to caster
Healing Fragrance
(Healing)
[12 turns cooldown, available on turn 12]
Recover HP/MP (100%) to all allies
[8 turns cooldown, available on turn 8]
Recover HP/MP (100%) to all allies
Magical String Musician
(Tech)
Increase HP/MP (20%) when equipped with an instrument
Increase HP/MP (70%) and DEF/SPR (30%) when equipped with an instrument
Marvelous Queen
(Support)
[Requirement: TMR or STMR equipped]
Increase SPR (20%) and HP/MP (10%)
Increase resistance to petrify (100%)
Increase resistance to stop (100%)
Upgrade LB
[Requirement: TMR or STMR equipped]
Increase DEF/SPR (50%) and HP/MP (40%)
Increase resistance to sleep, silence, confuse, and petrify (100%)
Increase resistance to stop (100%)
Upgrade LB +2
Increase LB gauge fill rate (100%)
Overcharge
(Guard)
Chance to ignore fatal damage (100%) when HP is above 10% (max 1 time)
Increase HP (30%) and DEF/SPR (30%)
Chance to ignore fatal damage (100%) when HP is above 10% (max 1 time)
Increase resistance to blind, confuse, and disease (100%)
Demagnetizing Strike
(Black)
Physical damage (20x) with ignore DEF (50%) to one enemy
Decrease lightning resistance (75%) for 3 turns to one enemy
Increase LB gauge (15) to caster
Bolting Strike
Physical damage (30x) with ignore DEF (50%) to one enemy
Decrease lightning resistance (120%) for 5 turns to one enemy
Increase LB gauge (20) to caster
Bolting Strike
Combat Overdrive
(Power)
Increase ATK (200%) for 3 turns to caster
Increase modifier (5x) for 4 turns to caster (can't be dispelled): Demagnetizing Strike, Static Barrage, Storm Brand, Storm Calling
Increase ATK (250%) for 5 turns to caster (can't be dispelled)
Increase modifier (10x) for 5 turns to caster (can't be dispelled): Bolting Strike, Demagnetizing Strike, Static Barrage, Storm Brand, Storm Calling
Ancient Figure
(Support)
[Requirement: TMR or STMR equipped]
Increase HP/ATK (30%)
Increase LB gauge fill rate (100%)
Increase LB damage (50%)
Increase equipment ATK (100%) and accuracy (25%) when single wielding any weapon
Auto-cast Power-Driven Surge at the start of a battle
[Requirement: TMR or STMR equipped]
Increase HP (30%) and ATK/SPR (50%)
Increase LB gauge fill rate (100%)
Increase LB damage (100%)
Increase equipment ATK (100%) and accuracy (25%) when single wielding any weapon
Auto-cast Power-Driven Surge at the start of a battle
Error - Unable to find: damage (100%
Shock Embrace
(Guard)
[4 turns cooldown, available on turn 1]
Decrease lightning resistance (100%) for 5 turns to all enemies
Add lightning element to physical attacks for 5 turns to caster
Increase LB gauge (20) to caster
[4 turns cooldown, available on turn 1]
Decrease lightning resistance (130%) for 5 turns to all enemies
Add lightning element to physical attacks for 5 turns to caster
Increase LB gauge (30) to caster
Negate 5 physical attacks for 5 turns to caster
Storm Clouds
(Tech)
[4 turns cooldown, available on turn 4]
Physical damage (50x) to one enemy
Increase modifier (10x) for 2 turns to caster (can't be dispelled): Storm Calling
Increase LB gauge (30) to caster
Absolute Mirror of Equity
[3 turns cooldown, available on turn 3]
Physical damage (70x) to one enemy
Increase modifier (20x) for 3 turns to caster (can't be dispelled): Storm Calling
Increase LB gauge (35) to caster
Absolute Mirror of Equity
Bolting Strike
(Power)
Physical damage (25x) with ignore DEF (50%) to all enemies
Decrease DEF (70%) for 5 turns to all enemies
Increase LB gauge (20) to caster
Bolting Strike
Physical damage (35x) with ignore DEF (50%) to all enemies
Decrease DEF (80%) for 5 turns to all enemies
Increase LB gauge (25) to caster
Bolting Strike
Precursor of the Storm
(Tech)
Increase HP/ATK (30%)
Increase ATK (60%) when equipped with a great sword
Upgrade LB
Increase equipment ATK (50%) and accuracy (25%) when single wielding any weapon
Increase physical damage against machinas and stone monsters (50%)
Increase HP/MP (30%) and ATK (50%)
Increase ATK (60%) and DEF/SPR (20%) when equipped with a great sword
Upgrade LB +2
Increase equipment ATK (100%) and accuracy (25%) when single wielding any weapon
Increase physical damage against machinas and stone monsters (50%)
Withering Arms
(Black)
Decrease ATK/MAG (45%) for 3 turns to all enemies
Decrease ATK/MAG (65%) for 4 turns to all enemies
MP cost increased to 60
Withering Guard
(White)
Decrease DEF/SPR (45%) for 3 turns to all enemies
Decrease DEF/SPR (65%) for 4 turns to all enemies
MP cost increased to 60
Growing Offense
(Power)
Increase ATK/MAG (120%) for 3 turns to all allies
Increase LB gauge fill rate (150%) for 3 turns to all allies
Increase ATK/MAG (160%) for 4 turns to all allies (can't be dispelled)
Increase LB gauge fill rate (150%) for 4 turns to all allies

Auto-cast after 2 turns:
Increase ATK/MAG (180%) for 2 turns to all allies (can't be dispelled)
Increase LB gauge fill rate (150%) for 2 turns to all allies
MP cost increased to 65
Growing Defense
(Guard)
Increase DEF/SPR (120%) for 3 turns to all allies
Grant HP barrier (1000) for 3 turns to all allies
Increase DEF/SPR (160%) for 4 turns to all allies (can't be dispelled)
Grant HP barrier (1000) for 4 turns to all allies

Auto-cast after 2 turns:
Increase DEF/SPR (180%) for 2 turns to all allies (can't be dispelled)
Grant HP barrier (1000) for 2 turns to all allies
MP cost increased to 65
Protective Vines
(Healing)
Mitigate physical damage taken (25%) for 3 turns to all allies
Mitigate physical damage taken (30%) for 4 turns to all allies
Restore HP (5000) to all allies
MP cost increased to 60
Protective Petals
(Healing)
Mitigate magic damage taken (25%) for 3 turns to all allies
Mitigate magic damage taken (30%) for 4 turns to all allies
Restore HP (5000) to all allies
MP cost increased to 60
All pinned up!
(Tech)
[Requirement: TMR or STMR equipped]
Increase LB gauge fill rate (100%)
Increase HP/MP (30%)
Increase resistance to all elements (20%)
[Requirement: TMR or STMR equipped]
Increase LB gauge fill rate (150%)
Increase HP/MP (50%) and DEF/SPR (30%)
Increase resistance to all elements (30%)
Auto-cast All pinned up!Enable skill for 1 turn to caster: Triple the fun! at the start of a battle
Hop into battle!
(Power)
[6 turns cooldown, available on turn 1]
Increase ATK/MAG (200%) for 3 turns to one ally
Decrease DEF/SPR (70%) for 3 turns to all enemies
Enable skill for 2 turns to caster: Triple the fun!
[5 turns cooldown, available on turn 1]
Increase ATK/MAG (300%) for 3 turns to one ally (can't be dispelled)
Decrease DEF/SPR (70%) for 3 turns to all enemies
Enable skill for 4 turns to caster: Triple the fun!
MP cost increased to 100
Hop to the rescue!
(Guard)
[6 turns cooldown, available on turn 1]
Increase DEF/SPR (200%) for 3 turns to one ally
Decrease ATK/MAG (70%) for 3 turns to all enemies
Enable skill for 2 turns to caster: Triple the fun!
[5 turns cooldown, available on turn 1]
Increase DEF/SPR (300%) for 3 turns to one ally (can't be dispelled)
Decrease ATK/MAG (70%) for 3 turns to all enemies
Enable skill for 4 turns to caster: Triple the fun!
MP cost increased to 100
Marian, watch over me!
(Support)
[11 turns cooldown, available on turn 1]
Increase resistance to ATK/DEF/MAG/SPR break (100%) for 5 turns to all allies
Increase ATK/DEF/MAG/SPR (170%) for 5 turns to all allies
Enable skill for 2 turns to caster: Triple the fun!
[9 turns cooldown, available on turn 1]
Increase resistance to ATK/DEF/MAG/SPR break (100%) for 5 turns to all allies
Increase ATK/DEF/MAG/SPR (200%) for 5 turns to all allies (can't be dispelled)
Enable skill for 6 turns to caster: Triple the fun!
MP cost increased to 120
Devoted Stance
(Guard)
Increase chance of being targeted (100%) for 3 turns to caster
Increase chance of being targeted (100%) for 5 turns to caster
Increase DEF (150%) for 5 turns to caster
Evasive Blade
(Black)
Physical damage (1.5x) to one enemy
Decrease DEF (50%) for 3 turns to one enemy
Negate 1 physical attack for 3 turns to caster
Physical damage (5x) to one enemy
Decrease ATK/DEF (60%) for 3 turns to one enemy
Negate 3 physical attacks for 3 turns to caster
Kindhearted Swordsman
(White)
Increase DEF (50%) when equipped with a sword
Increase DEF (120%) and HP (30%) when equipped with a sword
Increase resistance to blind, paralyze, and confuse (100%)
Sacred Flux
(White)
Light magic damage (2.5x) with consecutive increase (6 times, 1.5x each, 11.5x max) to all enemies
Divine Ruination
Light magic damage (3.5x) with consecutive increase (5 times, 3.5x each, 21x) to all enemies
Divine Ruination
MP cost reduced to 38
Luminous Fall
(Black)
Decrease light resistance (50%) for 3 turns to all enemies
Decrease SPR (50%) for 3 turns to all enemies
Decrease light resistance (90%) for 4 turns to all enemies
Decrease SPR (70%) for 4 turns to all enemies
Great Mage's Feats!
(Support)
Increase MAG (20%) when equipped with a rod
Increase MAG (20%) when equipped with a robe
Increase MAG (50%) and HP/MP (25%) when equipped with a rod
Increase MAG (50%) and HP/MP (25%) when equipped with a robe
Magna Counter
(Healing)
Chance to counter physical attacks (30%) with Magna CounterMagna Counter
Enable skill for 1 turn to caster: Dual Sacred Flux (max 1/turn)
Chance to counter magic attacks (30%) with Magna CounterMagna Counter
Enable skill for 1 turn to caster: Dual Sacred Flux (max 1/turn)
Chance to counter physical attacks (80%) with Magna CounterMagna Counter
Enable skill for 1 turn to caster: Dual Sacred Flux (max 1/turn)
Chance to counter magic attacks (80%) with Magna CounterMagna Counter
Enable skill for 1 turn to caster: Dual Sacred Flux (max 1/turn)
Recover MP (10%) per turn
Batch 37 (3/28/2020)
Unit
Abilities
Base Effects
Awakening
Dual Blade Mastery
(Tech)
Increase MAG (20%)
Increase MAG (30%)
Increase chain modifier cap (200%) when dual wielding
Water Projection
(Healing)
Water hybrid damage (7.5x) to all enemies
Water hybrid damage (20x) to all enemies
Bolting Strike
Hit count increased to 9
MP cost increased to 55
Ice Splinters
(Green)
Ice hybrid damage (7.5x) to all enemies
Ice hybrid damage (20x) to all enemies
Absolute Zero
Hit count increased to 11
MP cost increased to 55
Ambush
(Support)
Increase physical and magic damage against demons, humans, and undeads (50%)
Increase physical and magic damage against demons, humans, and undeads (100%)
Increase MAG (50%) and ATK (30%)
Increase resistance to paralyze, disease, and petrify (100%)
Brilliance
(White)
Light hybrid damage (16.5x) to one enemy
Decrease light resistance (100%) for 3 turns to one enemy
Divine Ruination
Light hybrid damage (30x) to one enemy
Decrease light resistance (120%) for 5 turns to one enemy
Divine Ruination
MP cost increased to 60
Dark Spirits
(Black)
Dark hybrid damage (16.5x) to one enemy
Decrease dark resistance (100%) for 3 turns to one enemy
Divine Ruination
Dark hybrid damage (30x) to one enemy
Decrease dark resistance (120%) for 5 turns to one enemy
Divine Ruination
MP cost increased to 60
Iota Star
(Guard)
[Requirement: TMR or STMR equipped]
Increase ATK/MAG (50%)
Increase physical and magic damage against demons, humans, and undeads (50%)
Increase equipment ATK (100%) when dual wielding
[Requirement: TMR or STMR equipped]
Increase ATK/MAG (120%) and DEF/SPR/HP (50%)
Increase physical and magic damage against demons, humans, and undeads (50%)
Increase equipment ATK (150%) when dual wielding
True Projection
(Tech)
Increase physical evasion (30%)
Increase equipment MAG (100%) when dual wielding
Increase LB damage (50%)
Increase modifier (1x): Ice Splinters, Water Projection
Increase modifier (2x): Brilliance, Dark Spirits, Dying Flora
Increase physical evasion (40%)
Increase equipment MAG (150%) when dual wielding
Increase LB damage (50%)
Increase modifier (5x): Ice Splinters, Water Projection
Increase modifier (10x): Brilliance, Dark Spirits, Dying Flora
Clad in Power
(Power)
[5 turns cooldown, available on turn 1]
Increase ATK/MAG (250%) for 5 turns to caster
Decrease ice, wind, light, and dark resistance (100%) for 3 turns to all enemies
[5 turns cooldown, available on turn 1]
Increase ATK/MAG (250%) for 5 turns to caster (can't be dispelled)
Decrease ice, wind, light, and dark resistance (100%) for 5 turns to all enemies
Increase modifier (15x) for 5 turns to caster (can't be dispelled): Dying Flora, Ice Splinters, Water Projection
Increase modifier (20x) for 5 turns to caster (can't be dispelled): Brilliance, Dark Spirits, Projection - Dance of Darkness
Increase modifier (42x) for 5 turns to caster (can't be dispelled): Projection - Dance of Destruction
MP cost increased to 150
Protector's Hidden Blade
(Power)
Increase SPR (20%)
Increase SPR (30%)
Divine Ruination
Physical damage (1x) with ignore DEF (50%) to one enemy
Physical damage (8x) with ignore DEF (50%) to one enemy
MP cost increased to 68
Fire Riser
(Power)
Physical damage (2.8x) with ignore DEF (50%) to one enemy
Add fire element to physical attacks for 5 turns to caster
Divine Ruination
Physical damage (5x) with ignore DEF (50%) to one enemy
Decrease fire resistance (100%) for 8 turns to one enemy
Increase ATK/DEF (200%) for 8 turns to caster
Add fire element to physical attacks for 8 turns to caster
Divine Ruination
Increase physical damage against demons (75%) for 8 turns to caster
Ice Riser
(Healing)
Physical damage (2.8x) with ignore DEF (50%) to one enemy
Add ice element to physical attacks for 5 turns to caster
Absolute Mirror of Equity
Physical damage (5x) with ignore DEF (50%) to one enemy
Decrease ice resistance (100%) for 8 turns to one enemy
Increase ATK/DEF (200%) for 8 turns to caster
Add ice element to physical attacks for 8 turns to caster
Absolute Mirror of Equity
Increase physical damage against demons (75%) for 8 turns to caster
Noble Banishing Blade
(White)
Physical damage (3.8x) with ignore DEF (50%) to one enemy
Increase physical damage against demons (100%) for 3 turns to caster
Absolute Mirror of Equity
Physical damage (7x) with ignore DEF (50%) to one enemy
Increase physical damage against demons (150%) for 3 turns to caster
Absolute Mirror of Equity
Heatwave Formation Strike
(Black)
[4 turns cooldown, available on turn 4]
Physical damage (8.5x) with ignore DEF (50%) to one enemy
Increase fire resistance (100%) for 3 turns to all allies
Divine Ruination
[4 turns cooldown, available on turn 4]
Physical damage (18x) with ignore DEF (50%) to all enemies
Increase fire resistance (100%) for 4 turns to all allies
Divine Ruination
Increase modifier (2.5x) for 4 turns to caster (can't be dispelled): Protector's Hidden Blade
Enable skill for 5 turns to caster: Triple Sword Combo
Blizzard Formation Strike
(Green)
[4 turns cooldown, available on turn 4]
Physical damage (8.5x) with ignore DEF (50%) to one enemy
Increase ice resistance (100%) for 3 turns to all allies
Absolute Mirror of Equity
[4 turns cooldown, available on turn 4]
Physical damage (18x) with ignore DEF (50%) to all enemies
Increase ice resistance (100%) for 4 turns to all allies
Absolute Mirror of Equity
Increase modifier (5x) for 4 turns to caster (can't be dispelled): Noble Banishing Blade
Enable skill for 5 turns to caster: Triple Sword Combo
Earnest Swordsman
(Tech)
Increase equipment ATK (100%) and accuracy (25%) when single wielding any weapon
Increase fire resistance (50%)
Increase HP/ATK/DEF/SPR (30%)
Increase equipment ATK (150%) and accuracy (25%) when single wielding any weapon
Increase fire resistance (50%)
The Burden of a Hero
(Support)
[Requirement: TMR or STMR equipped]
Auto-cast Triple Sword Combo at the start of a battle
Increase physical and magic damage against demons (75%) when equipped with a great sword
[Requirement: TMR or STMR equipped]
Auto-cast Triple Sword Combo +2Enable skill for 4 turns to caster: Triple Sword Combo at the start of a battle
Increase physical and magic damage against demons (75%) when equipped with a great sword
Increase HP/MP/ATK/DEF/SPR (40%)
Increase resistance to blind, disease, and petrify (100%)
Recover MP (5%) per turn
Malboro Rider
(Tech)
Increase ATK (30%)
Increase equipment ATK (50%) and accuracy (25%) when single wielding any weapon
Increase physical and magic damage against demons and plants (50%)
Increase ATK (60%) and HP/MP (30%)
Increase equipment ATK (100%) and accuracy (25%) when single wielding any weapon
Increase physical and magic damage against demons and plants (100%)
Recover MP (7%) per turn
Increase ATK (30%) when equipped with a whip
Bad Breath
(Green)
Physical damage (4x) per turn for 3 turns to all enemies
Inflict 4 random status ailments (50%) to all enemies
Decrease ice, light, and dark resistance (60%) for 3 turns to all enemies
Enable skill for 4 turns to caster: Baaad Breath
Physical damage (15x) per turn for 5 turns to all enemies (can't be dispelled)
Inflict 4 random status ailments (50%) to all enemies
Decrease ice, light, and dark resistance (60%) for 3 turns to all enemies
Enable skill for 6 turns to caster: Baaad Breath +2
Ground Whip
(Support)
Earth physical damage (5.6x) to one enemy
Decrease earth resistance (75%) for 5 turns to one enemy
Increase LB gauge (3) to caster
Absolute Mirror of Equity
Earth physical damage (12x) to one enemy
Decrease earth resistance (100%) for 5 turns to one enemy
Increase LB gauge (2) to all allies, except caster
Increase LB gauge (6) to caster
Absolute Mirror of Equity
Gamma Star
(Support)
[Requirement: TMR or STMR equipped]
Increase ATK (50%)
Increase equipment ATK (50%) and accuracy (25%) when single wielding any weapon
Chance to ignore fatal damage (80%) when HP is above 30% (max 1 time)
[Requirement: TMR or STMR equipped]
Increase ATK (80%) and DEF/SPR/HP (40%)
Increase equipment ATK (50%) and accuracy (25%) when single wielding any weapon
Chance to ignore fatal damage (100%) when HP is above 10% (max 1 time)
Get Serious
(Healing)
[8 turns cooldown, available on turn 1]
Increase ATK (250%) for 6 turns to caster
Cure ATK/DEF/MAG/SPR break to caster
Increase resistance to ATK/DEF/MAG/SPR break (100%) for 6 turns to caster
Enable skill for 5 turns to caster: Triple Whip
[6 turns cooldown, available on turn 1]
Increase ATK (300%) for 6 turns to caster (can't be dispelled)
Cure ATK/DEF/MAG/SPR break to caster
Increase resistance to ATK/DEF/MAG/SPR break (100%) for 6 turns to caster
Refresh MP (600) split over 3 turns to caster
Enable skill for 7 turns to caster: Triple Whip
Brutal Whip
(Guard)
Earth physical damage (7x) to one enemy
Decrease earth resistance (100%) for 5 turns to one enemy
Absolute Mirror of Equity
Earth physical damage (18x) to one enemy
Decrease earth resistance (120%) for 5 turns to one enemy
Add earth element to physical attacks for 5 turns to caster
Absolute Mirror of Equity
MP cost reduced to 60
Toxic Whip
(Power)
[3 turns cooldown, available on turn 3]
Inflict death (30%) or deal physical damage (16x) to all enemies
Physical damage (7x) per turn for 3 turns to all enemies
[3 turns cooldown, available on turn 3]
Inflict death (30%) or deal physical damage (36x) to all enemies
Physical damage (25x) per turn for 3 turns to all enemies (can't be dispelled)
Absolute Mirror of Equity
Attack frames change
Malboro Support
(Black)

Randomly use:
(50%) Malboro Support
 - 
Physical damage (6.5x) per turn for 3 turns to all enemies
(40%) Bad Breath
 - 
Physical damage (4x) per turn for 3 turns to all enemies
Inflict 4 random status ailments (50%) to all enemies
Decrease ice, light, and dark resistance (60%) for 3 turns to all enemies
Enable skill for 4 turns to caster: Baaad Breath
(10%) Malboro Support
 - 
Decrease ice, light, and dark resistance (120%) for 1 turn to all enemies

Randomly use:
(95%) Malboro Support
 - 
Physical damage (25x) per turn for 5 turns to all enemies (can't be dispelled)
(5%) Malboro Support
 - 
Decrease ice, light and dark resistance (120%) for 2 turns to all enemies

The 11th and 12th Strongest
(Green)
Increase ATK/DEF (20%)
Increase ATK/DEF (50%) and HP/SPR (20%)
Increase resistance to blind, silence, paralyze, and confuse (100%)
Fight Song
(White)
Increase ATK/DEF/MAG/SPR (80%) for 3 turns to all allies while singing
Increase ATK/DEF/MAG/SPR (130%) for 3 turns to all allies while singing
Lethargy
(Black)
Decrease DEF/SPR (50%) for 3 turns to all enemies
Decrease fire, lightning, wind, and light resistance (50%) for 3 turns to all enemies
Decrease ATK/DEF/MAG/SPR (60%) for 3 turns to all enemies
Decrease fire, lightning, wind, and light resistance (70%) for 3 turns to all enemies
Batch 36 (2/27/2020)
Unit
Abilities
Base Effects
Awakening
Dual Blade Mastery
(Tech)
Increase MP (20%)
Increase MP (30%)
Increase chain modifier cap (200%) when dual wielding
Dolphin Blow
(Healing)
Water physical damage (3.3x) to one enemy
Decrease water resistance (60%) for 5 turns to one enemy
Add water element to physical attacks for 5 turns to caster
Water physical damage (20x) to one enemy
Decrease water resistance (120%) for 5 turns to one enemy
Add water element to physical attacks for 5 turns to caster
Final Heaven
(Power)
Physical damage (6x) with consecutive increase (5 times, 1x each, 11x max) to one enemy
Divine Ruination
Physical damage (27x) with consecutive increase (5 times, 2.5x each, 39.5x max) to one enemy
Divine Ruination
Overdrive
(Support)
[5 turns cooldown, available on turn 1]
Heal HP (15000) split over 3 turns to caster
Refresh MP (300) split over 3 turns to caster
Increase ATK (200%) for 3 turns to caster
Increase LB gauge fill rate (200%) for 3 turns to caster
Enable skill for 1 use to caster: Overdrive Plus
[5 turns cooldown, available on turn 1]
Heal HP (25000) split over 5 turns to caster
Refresh MP (500) split over 5 turns to caster
Increase ATK (200%) for 999 turns to caster (can't be dispelled)
Increase LB gauge fill rate (200%) for 5 turns to caster
Enable skill for 1 use to caster: Overdrive Plus
Seventh Heaven
(Power)
[3 turns cooldown, available on turn 3]
Physical damage (6.7x) with ignore DEF (50%) to all enemies
[3 turns cooldown, available on turn 3]
Physical damage (24.25x) with ignore DEF (50%) to all enemies
Increase modifier (14x) for 4 turns to caster (can't be dispelled): Final Heaven
Divine Ruination
Attack frame change
Battle Cry
(Green)
Increase DEF/SPR (30%)
Increase LB gauge fill rate (100%)
Increase HP (50%) and DEF/SPR (60%)
Increase LB gauge fill rate (100%)
Increase resistance to all status ailments (100%)
Two-Fisted Fighter
(Tech)
Increase ATK (30%)
Enable dual wielding of one-handed weapons
Increase MP (50%) and ATK (100%)
Enable dual wielding of one-handed weapons
Increase equipment ATK (50%) when dual wielding
Recover MP (5%) per turn
Jecht Rush
(Black)
Physical damage (0.5x) with ignore DEF (50%) to one enemy
Physical damage (2.5x) with ignore DEF (50%) to one enemy
Decrease water resistance (75%) for 3 turns to one enemy
Divine Ruination
Physical damage (0.75x) with ignore DEF (50%) to one enemy
Physical damage (2.75x) with ignore DEF (50%) to one enemy
Decrease water resistance (100%) for 5 turns to one enemy
Divine Ruination
Quick Block
(Guard)
Physical damage (1.8x) to one enemy
Mitigate physical damage taken (20%) for 1 turn to caster
Enable skill for 2 turns to caster: Triple Quickstrike
Physical damage (1.8x) to one enemy
Mitigate physical damage taken (30%) for 3 turns to caster
Enable skill for 4 turns to caster: Triple Quickstrike
Fake Out
(Power)
[5 turns cooldown, available on turn 1]
Cure ATK/DEF/MAG/SPR break to caster
Increase modifier (2x) for 3 turns to caster: Hot Steel, Jecht Shot Mark III
Enable skill for 3 turns to caster: Triple Quickstrike
[5 turns cooldown, available on turn 1]
Cure ATK/DEF/MAG/SPR break to caster
Increase ATK (200%) for 5 turns to caster (can't be dispelled)
Increase modifier (6x) for 4 turns to caster (can't be dispelled): Hot Steel, Jecht Rush, Jecht Shot Mark III
Enable skill for 5 turns to caster: Triple Quickstrike
Double Quickstrike
(Tech)
Cast 2 times: Jecht Shot, Jecht Beam, Triumphant Grasp, Jecht Bomber, Jecht Shot Mark III, Jecht Rush, Hot Steel, Quick Block
Cast 2 times: Any of Jecht's skills
Brutal Blitzer
(Support)
Increase HP (30%)
Increase ATK (50%) when equipped with a great sword
Increase HP (60%) and DEF/SPR (30%)
Increase ATK (130%) when equipped with a great sword
Superstar
(Tech)
Increase physical damage against beasts, birds, and demons (50%)
Increase equipment ATK (50%) and accuracy (25%) when single wielding any weapon
Increase equipment ATK (30%) when dual wielding
Increase physical damage against beasts, birds, and demons (50%)
Increase equipment ATK (150%) and accuracy (25%) when single wielding any weapon
Increase equipment ATK (70%) when dual wielding
Searing Slash
(Support)
Physical damage (2.8x) to one enemy
Add fire element to physical attacks for 3 turns to caster
Physical damage (6x) to one enemy
Increase LB gauge (3) to all allies
Add fire element to physical attacks for 3 turns to caster
Blazing Sword Wielder
(Tech)
Increase ATK (50%) when equipped with a katana
Increase fire resistance (20%)
Increase ATK (100%) when equipped with a katana
Increase fire resistance (60%)
Carmine Bisect
(Power)
Physical damage (3.4x) to one enemy
Decrease fire resistance (50%) for 3 turns to one enemy
Ryujin
Physical damage (8x) to one enemy
Decrease fire resistance (80%) for 3 turns to one enemy
Divine Ruination
Hit count increased to 7
Batch 35 (1/30/2020)
Unit
Abilities
Base Effects
Awakening
Recital - Elemental Storm
(Green)
Decrease resistance to all elements (40%) for 1 turn to all enemies
Increase resistance to all elements (40%) for 1 turn to all allies
Magic damage (3x) to all enemies
Skip the next 2 turns to caster while singing

Auto-cast next turn:
Decrease resistance to all elements (55%) for 1 turn to all enemies
Increase resistance to all elements (55%) for 1 turn to all allies
Magic damage (3x) to all enemies

Auto-cast after 2 turns:
Decrease resistance to all elements (70%) for 1 turn to all enemies
Increase resistance to all elements (70%) for 1 turn to all allies
Magic damage (3x) to all enemies

Auto-cast after 3 turns:
Decrease resistance to all elements (45%) for 4 turns to all enemies
Increase resistance to all elements (45%) for 4 turns to all allies
Enable skill for 4 turns for 1 use to all allies: Butterfly Dance
Increase MAG (200%) for 1 turn to caster (can't be dispelled)
Decrease resistance to all elements (70%) for 3 turns to all enemies
Magic damage (3x) to all enemies
Increase resistance to all elements (70%) for 3 turns to all allies
Enable skill for 3 turns to all allies: Butterfly Dance +2
Increase MAG (200%) for 3 turns to caster (can't be dispelled)
MP cost increased to 90
Recital - Ten-Sided Ambush
(Black)
Decrease ATK/DEF/MAG/SPR (40%) for 1 turn to all enemies
Magic damage (3x) to all enemies
Skip the next 2 turns to caster while singing

Auto-cast next turn:
Decrease ATK/DEF/MAG/SPR (55%) for 1 turn to all enemies
Magic damage (3x) to all enemies

Auto-cast after 2 turns:
Decrease ATK/DEF/MAG/SPR (70%) for 1 turn to all enemies
Magic damage (3x) to all enemies

Auto-cast after 3 turns:
Decrease ATK/DEF/MAG/SPR (45%) for 4 turns to all enemies
Enable skill for 4 turns for 1 use to all allies: Searing Phoenix
Increase MAG (200%) for 1 turn to caster (can't be dispelled)
Decrease ATK/DEF/MAG/SPR (65%) for 3 turns to all enemies
Magic damage (3x) to all enemies
Enable skill for 3 turns to all allies: Searing Phoenix +2
Increase MAG (200%) for 3 turns to caster (can't be dispelled)
MP cost increased to 100
Recital - Ambitious Comforts
(Guard)
Increase DEF/SPR (120%) for 1 turn to all allies (can't be dispelled)
Magic damage (3x) to all enemies
Skip the next 2 turns to caster while singing

Auto-cast next turn:
Increase DEF/SPR (160%) for 1 turn to all allies (can't be dispelled)
Magic damage (3x) to all enemies

Auto-cast after 2 turns:
Increase DEF/SPR (200%) for 1 turn to all allies (can't be dispelled)
Magic damage (3x) to all enemies

Auto-cast after 3 turns:
Increase DEF/SPR (140%) for 4 turns to all allies (can't be dispelled)
Enable skill for 4 turns for 1 use to all allies: Razor Petal Storm
Increase MAG (200%) for 1 turn to caster (can't be dispelled)
Increase DEF/SPR (180%) for 3 turns to all allies (can't be dispelled)
Magic damage (3x) to all enemies
Enable skill for 3 turns to all allies: Razor Petal Storm +2
Increase MAG (200%) for 3 turns to caster (can't be dispelled)
MP cost increased to 110
Recital - Singing Praise
(Power)
Increase ATK/MAG (120%) for 1 turn to all allies (can't be dispelled)
Magic damage (3x) to all enemies
Skip the next 2 turns to caster while singing

Auto-cast next turn:
Increase ATK/MAG (160%) for 1 turn to all allies (can't be dispelled)
Magic damage (3x) to all enemies

Auto-cast after 2 turns:
Increase ATK/MAG (200%) for 1 turn to all allies (can't be dispelled)
Magic damage (3x) to all enemies

Auto-cast after 3 turns:
Increase ATK/MAG (140%) for 4 turns to all allies (can't be dispelled)
Enable skill for 4 turns for 1 use to all allies: Rushing River Flow
Increase MAG (200%) for 1 turn to caster (can't be dispelled)
Increase ATK/MAG (180%) for 3 turns to all allies (can't be dispelled)
Magic damage (3x) to all enemies
Enable skill for 3 turns to all allies: Rushing River Flow +2
Increase MAG (200%) for 3 turns to caster (can't be dispelled)
MP cost increased to 110
Recital - Secret Lark
(Support)
Increase DEF/SPR (120%) for 1 turn to all allies (can't be dispelled)
Decrease ATK/MAG (40%) for 1 turn to all enemies
Magic damage (3x) to all enemies
Skip the next 2 turns to caster while singing

Auto-cast next turn:
Increase DEF/SPR (150%) for 1 turn to all allies (can't be dispelled)
Decrease ATK/MAG (50%) for 1 turn to all enemies
Magic damage (3x) to all enemies

Auto-cast after 2 turns:
Increase DEF/SPR (180%) for 1 turn to all allies (can't be dispelled)
Decrease ATK/MAG (60%) for 1 turn to all enemies
Magic damage (3x) to all enemies

Auto-cast after 3 turns:
Increase DEF/SPR (130%) for 4 turns to all allies (can't be dispelled)
Decrease ATK/MAG (45%) for 4 turns to all enemies
Enable skill for 4 turns for 1 use to all allies: Butterfly Dance
Increase MAG (200%) for 1 turn to caster (can't be dispelled)
Increase DEF/SPR (160%) for 3 turns to all allies (can't be dispelled)
Decrease ATK/MAG (60%) for 3 turns to all enemies
Magic damage (3x) to all enemies
Enable skill for 3 turns to all allies: Butterfly Dance +2
Increase MAG (200%) for 3 turns to caster (can't be dispelled)
MP cost increased to 120
Recital - Invigorating Praise
(Support)
Increase ATK/MAG (120%) for 1 turn to all allies (can't be dispelled)
Decrease DEF/SPR (40%) for 1 turn to all enemies
Magic damage (3x) to all enemies
Skip the next 2 turns to caster while singing

Auto-cast next turn:
Increase ATK/MAG (150%) for 1 turn to all allies (can't be dispelled)
Decrease DEF/SPR (50%) for 1 turn to all enemies
Magic damage (3x) to all enemies

Auto-cast after 2 turns:
Increase ATK/MAG (180%) for 1 turn to all allies (can't be dispelled)
Decrease DEF/SPR (60%) for 1 turn to all enemies
Magic damage (3x) to all enemies

Auto-cast after 3 turns:
Increase ATK/MAG (130%) for 4 turns to all allies (can't be dispelled)
Decrease DEF/SPR (45%) for 4 turns to all enemies
Enable skill for 4 turns for 1 use to all allies: Searing Phoenix
Increase MAG (200%) for 1 turn to caster (can't be dispelled)
Increase ATK/MAG (160%) for 3 turns to all allies (can't be dispelled)
Decrease DEF/SPR (60%) for 3 turns to all enemies
Magic damage (3x) to all enemies
Enable skill for 3 turns to all allies: Searing Phoenix +2
Increase MAG (200%) for 3 turns to caster (can't be dispelled)
MP cost increased to 120
Recital - Helpless Longing
(Guard)
Cure ATK/DEF/MAG/SPR break to all allies
Increase resistance to ATK/DEF/MAG/SPR break (100%) for 2 turns to all allies
Mitigate damage taken (30%) for 1 turn to all allies
Skip the next turn to caster while singing

Auto-cast next turn:
Cure ATK/DEF/MAG/SPR break to all allies
Increase resistance to ATK/DEF/MAG/SPR break (100%) for 1 turn to all allies
Mitigate damage taken (30%) for 1 turn to all allies
Cure ATK/DEF/MAG/SPR break to all allies
Increase resistance to ATK/DEF/MAG/SPR break (100%) for 3 turns to all allies
Mitigate damage taken (40%) for 3 turns to all allies
Moonlight Sonata
(Tech)
[7 turns cooldown, available on turn 7]
Remove all debuffs from all allies
Increase resistance to ATK/DEF/MAG/SPR break, stop, and charm (100%) for 3 turns to all allies
Increase ATK/DEF/MAG/SPR (150%) for 3 turns to all allies
Mitigate damage taken (30%) for 3 turns to all allies

Auto-cast next turn:
Increase MAG (200%) for 1 turn to caster
Enable skill for 4 turns for 1 use to caster: Moonlight Waltz
[6 turns cooldown, available on turn 4]
Remove all debuffs from all allies
Increase resistance to ATK/DEF/MAG/SPR break, stop, and charm (100%) for 4 turns to all allies
Increase ATK/DEF/MAG/SPR (200%) for 4 turns to all allies (can't be dispelled)
Mitigate damage taken (50%) for 4 turns to all allies
Enable skill for 4 turns to all allies: Moonlight Waltz +2
MP cost increased to 150
Sforzando
(Support)
[Requirement: TMR or STMR equipped]
Decrease MP used for songs (50%)
Increase HP (20%)
Decrease chance of being targeted (25%)
Upgrade LB
Enable skill: Moonlight Echo
[Requirement: TMR or STMR equipped]
Decrease MP used for songs (50%)
Increase HP/MAG (50%) and MP/DEF/SPR (30%)
Decrease chance of being targeted (25%)
Upgrade LB
Enable skill: Moonlight Echo +2
Saint's Conviction
(Power)
Increase MP (20%)
Increase MP (60%)
Increase modifier (5x): Special Arts - Ferocious Tiger Strike
Increase modifier (15x): Special Arts - Swift Phoenix Strike
Increase modifier (7x): White Tiger - Limit Strike
Increase modifier (17.5x): Blood Phoenix - Energy Burst
White Tiger - Shattering Fist
(White)
Physical damage (7.2x) to one enemy
Decrease DEF (60%) for 3 turns to one enemy
Divine Ruination
Physical damage (14.7x) to one enemy
Decrease DEF (60%) for 3 turns to one enemy
Increase ATK (120%) for 3 turns to caster
Divine Ruination
Blood Phoenix - Defensive Stance
(Power)
Magic* damage (9.5x) with SPR scaling to one enemy
Decrease SPR (60%) for 3 turns to one enemy
Increase SPR (80%) for 3 turns to caster
Divine Ruination
Magic* damage (18.7x) with SPR scaling to one enemy
Decrease SPR (60%) for 3 turns to one enemy
Increase SPR (120%) for 3 turns to caster
Divine Ruination
Saint's Bond
(Tech)
[Requirement: TMR or STMR equipped]
Increase ATK/SPR (10%)
Increase LB damage (30%)
Increase ATK/SPR (20%) when equipped with a fist
[Requirement: TMR or STMR equipped]
Increase ATK/SPR (50%)
Increase LB damage (30%)
Increase ATK/SPR (60%) when equipped with a fist
Increase equipment ATK/SPR (70%) and accuracy (25%) when single wielding any weapon
Special Arts - Saint's Boost
(Tech)
[5 turns cooldown, available on turn 1]
Increase modifier (1.5x) for 5 turns to caster: Saint's Arts - Spirit Palm, Saint's Arts - True Spirit Palm
Enable skill for 2 turns to caster: Fusion Barrage
[5 turns cooldown, available on turn 1]
Increase modifier (1.5x) for 5 turns to caster: Saint's Arts - Spirit Palm, Saint's Arts - True Spirit Palm
Enable skill for 3 turns to caster: Fusion Barrage
MP cost reduced to 50
Dual Saint Mastery
(Support)
Increase ATK/DEF/SPR (20%)
Increase modifier (1.3x): Blood Phoenix - Burning Strike, Blood Phoenix - Defensive Stance, Element Arts - Blazing Kick, Element Arts - Lightning Fist, Element Arts - Seismic Kick, Element Arts - Tornado Punch, White Tiger - Piercing Claw, White Tiger - Shattering Fist, White Tiger - Tiger's Roar
Increase equipment ATK (30%) when dual wielding
Increase equipment SPR (30%) when dual wielding
Increase modifier (2x): Blood Phoenix - Energy Burst, White Tiger - Limit Strike
Increase HP (30%), ATK (20%), DEF (50%) and SPR (20%)
Increase modifier (1.3x): Blood Phoenix - Burning Strike, Blood Phoenix - Defensive Stance, Element Arts - Blazing Kick, Element Arts - Lightning Fist, Element Arts - Seismic Kick, Element Arts - Tornado Punch, White Tiger - Piercing Claw, White Tiger - Shattering Fist, White Tiger - Tiger's Roar
Increase equipment ATK (100%) when dual wielding
Increase equipment SPR (50%) when dual wielding
Increase modifier (2x): Blood Phoenix - Energy Burst, White Tiger - Limit Strike
Batch 23-34 (2019)
Batch 34
Aurora Fryevia
Kurasame
Machina
Deuce
Batch 33.5
Hyoh
Ignis
Shatal
Macmedi
Ravus
Batch 33
Lilith
Lucius
Batch 32
Shadow Lord
Livid Shantotto
Nalu
Seaside Nichol
Summertime Luka
Shinju
Pecciotta
Kupipi
Batch 31
Raegen
Citra
Sieghard
Folka
Ignacio
Cid
Batch 30
Awakened Rain
Pyro Glacial Lasswell
Lotus Mage Fina
Maritime Strategist Nichol
Blossom Sage Sakura
Heavenly Technician Lid
Nameless Gunner Jake
Batch 29
Squall
Rinoa
Mediena
Vagrant Knight Rain
Joachim
Ryumynui
Zell
Zile
Batch 28
Sephiroth
Lila
Atoning Dragoon Kain
Pure Summoner Rydia
Emperor Shera
Yang
Lexa
Elbis
Batch 27
Aranea
Prompto
Yuna
Lulu
Emilia
Killian
Ozetta
Shylt
Batch 26
Balthier
Basch
Kunshira
Seymour
Drace
Vayne
Wakka
Camille
Batch 25
Beatrix
Eiko
Steiner
Cedona
Batch 24
Jiraiya
Wadow
Ohga
Kaede
Batch 23
Cloud
Elfreeda
Ang
Chow
Yan
Verun
Yuri
Miyuki
Batch 10-22 (2018)
Batch 22
Tinkerer Carrie
Gilbert
Batch 21
Gladiolus
Cor
Olif
Charie
Iris
Batch 20
Barbariccia
Cagnazzo
Rubicante
Illusionist Nichol
Pirate Jake
Chloe
William
Batch 19
Duke
Loren
Roy
Goken
Mystea
Silvia
Heltich
Ulrica
Batch 18
Ayaka
Onion Knight
Nyx
Aura
Aria
Crowe
Desch
Glauca
Batch 17
Prishe
Werei
Veritas of the Dark
Veritas of the Light
Veritas of the Flame
Veritas of the Earth
Veritas of the Waters
Veritas of the Heavens
Batch 16.5
Zargabaath
Ashe
Rasler
Xiao
Batch 16
Ray Jack
Kaliva
Barusa
Toby
Batch 15
Mercenary Ramza
Knight Delita
Zyrus
Meliadoul
Orran
Moogle
Cerius
Batch 14
Dragonlord
Orochi
Liquid Metal Slime
Killing Machine
Golem (Unit)
Robbin' 'Ood
Slime
Batch 13
Fryevia
Xon
Y'shtola
Minfilia
Yda
Papalymo
Thancred
Setzer
Batch 12
Tidus
Noctis
Vivi
Zidane
Vaan
Rikku
Kuja
Garnet
Batch 11
Lunera
Olive
Yun
Ling
Cupid Artemios
Cupid Luna
Ruggles
Roselia
Batch 10
Ramza
Aileen
Fohlen
Victoria
Amelia
Bran
Sozhe
Helena
Batch 1-9 (2017)
Batch 9
Ilias
King
Nine
Orlandeau
Rem
Santa Roselia
Warrior of Light
White Knight Noel
Batch 8
Wilhelm
Seabreeze Dark Fina
Beach Time Fina
Shine
Thief
Juggler
Fencer
Batch 7
Trance Terra
Emperor
Leon
Black Cat Lid
Garland
White Witch Fina
Demon Rain
Dracu Lasswell
Batch 6
Agrias
Charlotte
Gaffgarion
Gilgamesh
Hayate
Kefka
Luka
Queen
Terra
Batch 5
Aiden
Grace
Marie
Primm
Randi
Soleil
Popoi
Fina
Batch 4
Cecil
Dark Knight Cecil
Exdeath
Luneth
Refia
Rosa
Sakura
Batch 3
Ace
Cloud of Darkness
Elza
Firion
Jake
Karl
Seria
Batch 2
Bartz
Chizuru
Dark Fina
Delita
Lasswell
Snow
Garnet
Hope
Kain
Nichol
Vanille
Batch 1
Lightning
Medius
Mercedes
Rain
Seven
Fina
Lid
Krile
Kuja
Roselia